Gold prices today (Friday) climbed $18.90, or $1.66%, to $1,158.90, which was a six-week high for the precious metal.
Gold prices today climbed after the release of the latest Federal Open Market Committee (FOMC) minutes. The minutes were clearly dovish, with many now believing an interest rate hike won't happen until 2016.
Minutes from the U.S. Federal Reserve's Sept. 16-17 meeting showed policy members are still concerned with low inflation and the growing threat of an economic slowdown in China. The FOMC minutes also showed all but one member concluded that economic conditions didn't warrant an interest rate hike.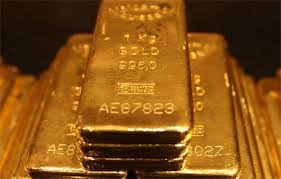 Given the Fed cited global weakness as reason enough to keep interest rates near zero, the Fed's delay could be longer than initially anticipated, given sputtering economic conditions worldwide.
Like most commodities, gold is priced in U.S. dollars. Since rising interest rates increase the value of the dollar, gold becomes more expensive when rates are hiked. Low interest rates typically send gold prices higher.
Also boosting gold prices today was news that commodities are on pace to close out the week with the biggest weekly gain since 2012. Pacific Investment Management Co. (PIMCO) added that the worst of the collapse in commodity prices is likely over. The Bloomberg Commodities Index advanced 4.4% this week.
Here's what investors can expect from the price of gold in the months ahead…