A look at the Carl Icahn holdings list shows that, like a lot of other top activist investors, he likes name-brand stocks.
That means the odds are good that a stock you own is among the Carl Icahn holdings.
So why does it matter? As an activist investor, Carl Icahn often does more than just agitate for fatter dividends or stock buybacks. He was instrumental in getting eBay Inc. (Nasdaq: EBAY) to split off its PayPal unit, for example.
According to the latest 13F filings, eBay ranks third in the list of current Carl Icahn holdings. He owns 46.2 million shares of EBAY.
Some of the other top Carl Icahn holdings you should recognize include:
One trend that has become apparent over the past decade is that Icahn and other activist investors have gone after bigger and bigger fish, mostly because they can. According to Hedge Fund Research, the 71 hedge funds classified as activist funds held $120 billion in assets in 2014, up from less than $40 billion in 2009.
Take a look at this chart: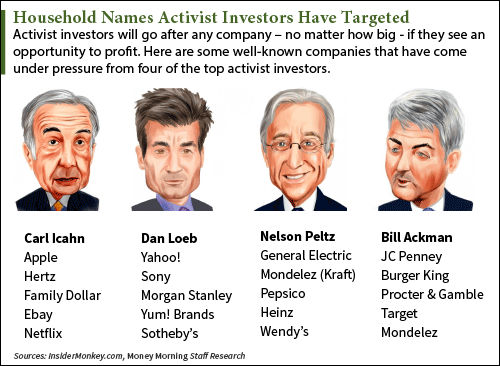 But investors need not fear the arrival of an activist investor like Carl Icahn.
Most of the time, a stock rises about 5% when an activist investor takes a position. And if they succeed in unlocking shareholder value – often the reason an activist investor targets a company – everyone who owns the stock benefits.
And often the benefit lasts even after the activist investor has moved on. A study by the Alternative Investment Management Association (AIMA) found a 25% average increase in the share price of target companies in the two years after an activist investor had exited the position.
So if a Carl Icahn should take a position in a stock you own, just sit back and enjoy the ride.
Follow me on Twitter @DavidGZeiler.
Activist Investors Explained: Money Morning Capital Wave Strategist Shah Gilani recently took the time to make a video to give some background on activist investing and how it affects retail investors. Just click on the video below…
Should You Invest Like Carl Icahn and Other Activist Investors?Over the past decade, activist-run funds have returned nearly 267% – more than double that of the Standard & Poor's 500 index. Many investors would like to get a piece of that success. Should you invest like Carl Icahn, Bill Ackman, Dan Loeb, or other activist investors?

Posted by Money Morning on Wednesday, October 7, 2015