The Netflix stock price was up slightly today (Friday) after the company announced it will be raising the price of its basic monthly service from $8.99 to $9.99 per month.
The news was announced on Thursday, and Netflix Inc. (Nasdaq: NFLX) stock climbed 12% intraday. It closed up 6.3% to $114.93.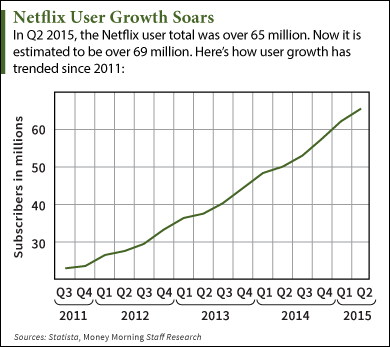 The Netflix stock price has now climbed 15.2% since Sept. 29. That's a huge rebound for the stock after it fell 20% between Aug. 17 and Sept. 4.
While a $1 raise per month seems small, Netflix now boasts more than 69 million global customers. When the subscription raise is fully integrated, that's another $69 million per month in revenue for the company. Over a year, that translates to roughly $828 million in revenue.
That price raise is part of the reason that Pacific Crest Securities raised its Netflix stock price target to $140. That's 22.7% higher than today's opening price of $114.11.
Money Morning Defense & Tech Specialist Michael A. Robinson agrees…
"The fact they are able to raise subscription prices on new subscribers means they are confident in their growth ability, and their ability to add new subscribers," Robinson said.
Robinson is also encouraged by the company's growth trajectory. It's estimated that the company now has roughly 69 million global subscribers. This time last year, it had just over 53 million. In October 2014, it was just 40 million. If you go all the way back to October 2012, the total was 29 million.
"Netflix is seeking to become the preeminent provider of content globally," Robinson said. "Right now, they are going through an Amazon.com Inc. (Nasdaq: AMZN) style growth period. It's the Bezos model – build, build, build – then the profits will follow."
While the case for the Netflix stock price is bullish, it's not the perfect investment for every investor, says Robinson. Here's what every investor needs to know about investing in NFLX stock…
Netflix Stock Price Climbs Today – Is It a Buy?