It has become an article of faith that the Bitcoin price is volatile.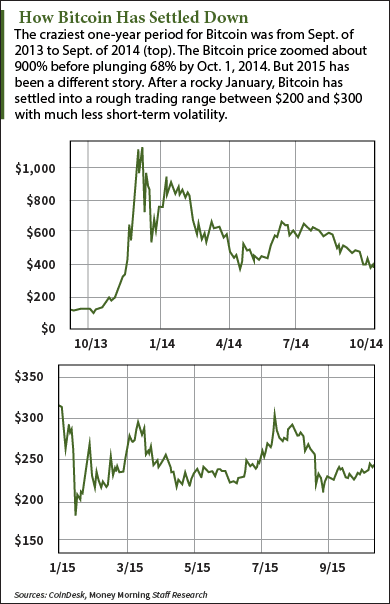 And when Bitcoin burst into the public consciousness back in 2013, it was true. Bitcoin prices soared 8,500% in 2013 only to fall 85% by January of this year.
Throughout it all, fans of the digital currency have made sky-high Bitcoin price predictions – $1,000, $10,000, and higher. And when the Bitcoin price was bottoming in December and January, critics declared it dead.
But after January, the price of Bitcoin did something neither the enthusiasts or the critics saw coming.
The Bitcoin price stabilized.
Not that the Bitcoin price hasn't had some ups and downs. But for the past eight months, it hasn't moved as far and as fast as it had been.
For example, in mid-January, the Bitcoin price dropped 33% in two days. But since early February, it's taken seven days to get moves as big as 15% to 20%.
And then there's this: Six months ago, the Bitcoin price was $244.36. Yesterday (Thursday), the CoinDesk Bitcoin Price Index was trading right around…$244. That's right. Over the past six months, the Bitcoin price is dead flat.
The main thing this tells us is that Bitcoin is here to stay and not destined to fade into oblivion, as many predicted at the end of 2014. If Bitcoin were going to disappear, the price would have just kept on dropping.
Yet that still leaves a lot of questions about where the Bitcoin price might go next.
How long will it stay in the $200-$300 range, where it's traded since early February? And in the years ahead, how will the financial world's fascination with the blockchain – the technology that underpins Bitcoin – affect the Bitcoin price?
Here's why the Bitcoin price has a lot of long-term upside…