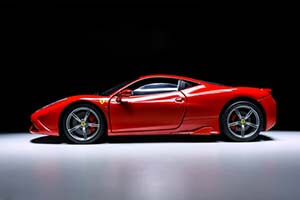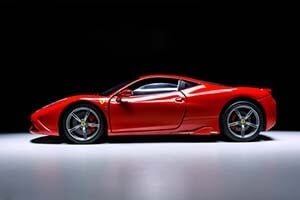 The Ferrari IPO price range is $48 to $52 a share. The company has also announced it will list on the New York Stock Exchange under the ticker "RACE."
The deal is one of the most anticipated offerings of 2015, because Ferrari is one of the most luxurious auto brands in the world.
With the Ferrari IPO price officially set, here's everything you need to know about the deal – including whether or not you should buy Ferrari stock when it hits the market…
Your Ferrari IPO Questions Answered
When is the Ferrari IPO date?
Shares of Ferrari SpA (NYSE: RACE) will price on the evening of Tuesday, Oct. 20. RACE stock will start trading on Wednesday, Oct. 21.
How much money will the Ferrari IPO raise?
Ferrari will sell 17.2 million shares. At the midpoint of the Ferrari IPO price range, the deal will raise $860 million.
The IPO is a spin-off of Fiat Chrysler Automobiles NV (NYSE: FCAU). According to the U.S. Securities and Exchange Commission filing, Fiat Chrysler is only selling 10% of Ferrari during its IPO. FCAU shareholders will own 80% of the rest of the company and Piero Ferrari – son of founder Enzo Ferrari – will own the remaining 10%.
How much is Ferrari worth?
Following the IPO, Ferrari will command a valuation of roughly $9.4 billion. That's slightly higher than Renault's $9.0 billion valuation and lower than Porsche's $11.4 billion.
What kind of company is Ferrari?
Ferrari is one of the most prestigious car brands in the world. The line of Italian vehicles range from $188,000 to upwards of $500,000. A 1962 Ferrari 250 GTO was sold for $35 million in 2012, making it the most expensive car ever sold.
The company keeps its products exclusive by capping annual production at 7,000 vehicles. That strategy ensures demand always outpaces supply.
"There are clear expectations from ourselves as Ferrari brand is unique," said Sergio Marchionne, CEO of Fiat Chrysler, at a presentation in Turin, Italy, on July 3.
Here's how Ferrari's unique sales strategy has boosted revenue since 2012…
How much money does Ferrari make?
After selling a record 7,318 vehicles in 2012, the company decided to cap annual sales at 7,000 units. It sold 6,922 cars in 2013, down 5.4% from 2012.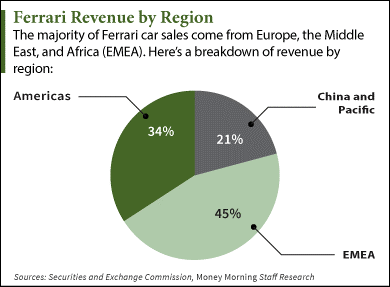 Despite lower sales, Ferrari's revenue increased 5% year over year to 2.3 billion euros ($3.2 billion). Its net profit was also up 5.4% to 246 million euros ($338.5 million) over the same period. The extra revenue came from costly personalization done on the cars.
The company said in its IPO filing it plans to expand sales into larger markets in China and other parts of Asia. However, government approvals and other federal restrictions could hinder sales growth in those regions.
"If our international expansion plans are unsuccessful, our business, results of operation and financial condition could be materially adversely affected," the IPO filing read.
Who are the Ferrari IPO underwriters?
The joint underwriters for the deal are UBS Group AG (NYSE: UBS), Bank of America Merrill Lynch, Allen & Company, Banco Santander, BNP Paribas, JPMorgan Chase & Co. (NYSE: JPM), and Mediobanca.
How have competitors performed recently?
The Ferrari IPO hits the market when auto stocks are volatile in the wake of Volkswagen AG's (OTCMKTS ADR: VLKAY) diesel scandal.
On Sept. 21, Volkswagen stock crashed 20% after company officials admitted the German automaker cheated on U.S. emissions tests. Regulators found the diesel models emitted more than 40 times the acceptable amount of nitrogen oxide.
From Sept. 21 to the end of the month, European car companies lost a combined $50 billion in market value. Paris-based Peugeot SA (OTCMKTS ADR: PEUGY) and Fiat Chrysler stock fell 14% and 9%, respectively.
With all of the volatility recently, investors are wondering if they should buy Ferrari stock when it starts trading next week. Here's what investors need to know before investing…