FedEx Corp. (NYSE: FDX) delivers "the world on time" to its customers and slow, steady growth - along with a $0.25 dividend - to its shareholders.
In fact, in 1983, it became the first American company to pull in more than $1 billion in revenue without any mergers or acquisitions, and it's been outperforming ever since.
FedEx makes a good, if expensive, foundational holding, but its $44 billion market cap, low volatility, and 282.3 million shares make it close to the last stock you'd ever expect to double your money quickly, let alone in less than three weeks.
But thanks to the easy, inexpensive trade I'm about to show you, that's exactly what happened.
Here's how we were able to turn a modest move up in FedEx shares into a 100% gain...
I Spotted This on My Money Calendar
I use my "Money Calendar" to zero in on trades that have a better than 90% chance of delivering triple-digit (or better) gains in the shortest possible time.
It's been a reliable way to take down gain after big gain, and back on Sept. 22, the Money Calendar was telling me it would be a really great idea to schedule some quality time with FedEx in late October.

And to get the most possible money out of this trade, a "loophole" was in order.
Technically, this is a bull call spread, and it's the way to go when you expect the stock to go higher but you don't want to leave yourself exposed to so much risk.
You simply buy call options at a specific strike price and then you sell the same number of call options at a different, higher strike price expiring the same month as the calls you bought.
So, on Sept. 22, I let my Money Calendar Alert members know what move we should make.
I recommended that my readers buy-to-open FDX Oct. 23, 2015, $150 calls (FDX151023C00150000).
Next, in the very same alert, I recommended they sell-to-open FDX Oct. 23, 2015, $155 calls (FDX151023C00155000).
As simple as that, we had our vertical call spread for $2.50 or less. Now, the "loophole" position was actually trading at $2.00 the morning of the entry date. So the exit on this trade would be to sell-to-close with an exit of $4.00, or a cool 100%...
The profits that came quickly afterwards were so fast, they shocked even me...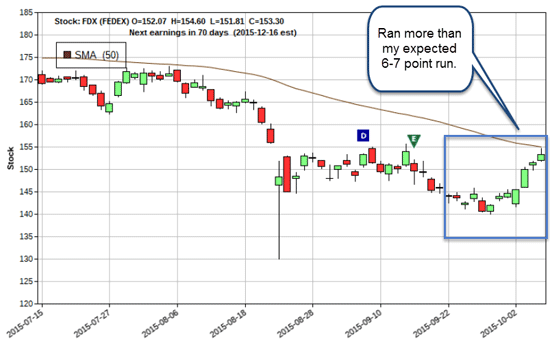 You see, I was only expecting FDX shares to mount a $6 or $7 run by Oct. 22, so the "exit strategy" I set up had my readers prepared to take profits with these instructions:
Join the conversation. Click here to jump to comments…
About the Author
Tom Gentile, options trading specialist for Money Map Press, is widely known as America's No. 1 Pattern Trader thanks to his nearly 30 years of experience spotting lucrative patterns in options trading. Tom has taught over 300,000 traders his option trading secrets in a variety of settings, including seminars and workshops. He's also a bestselling author of eight books and training courses.