An Intel stock analysis shows that the company's years of investing in new chip technologies is now starting to pay off.
We'll get a progress report of sorts tomorrow (Tuesday) when Intel Corp. (Nasdaq: INTC) reports Q3 earnings.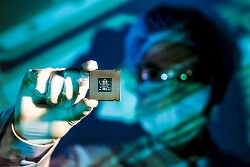 Investors have sensed better times ahead for the Santa Clara, Calif.-based company. Intel stock is up 8.24% over the past quarter, compared to a 4% drop in the Standard & Poor's 500 index.
That's despite unenthusiastic expectations for the Q3 Intel earnings.
For Q3, Wall Street forecasts Intel to earn $0.59 a share on revenue of $14.23 billion. That would be a 10.6% drop in EPS from the same period a year ago and a 2.2% decline in revenue.
But investors will need to look past these numbers. Any Intel stock analysis needs to recognize that the nature of the chip-making business means the impact of new strategic decisions often isn't felt for years.
Intel famously missed out on the mobile revolution and has paid the price in the past few years as PC sales have declined.
But Intel learned its lesson and several years ago set about developing new chip technologies targeted at computing's future – mobile, data centers (cloud computing), wearable tech, and the Internet of Things.
Now that strategy shift is on the verge of fruition, as more of the company's new chip technology finds its way into shipping products.
Over the past two years, the company has debuted these new chip initiatives, with two of the biggest coming this year.
As these new products gain traction among hardware makers, Intel's earnings will rise — and the INTC stock price along with it.
Here's a look at those chip technologies and how they will boost Intel stock…