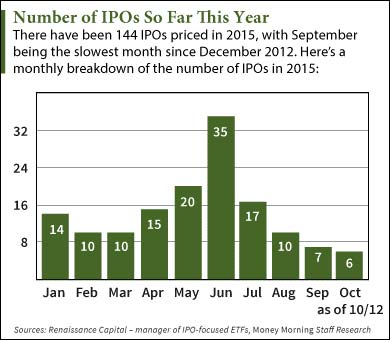 There are 11 companies on this week's upcoming IPO calendar. According to Renaissance Capital, a manager of IPO-focused ETFs, they include the largest and second-largest deals of the year.
The biggest IPO of 2015 so far will be First Data Corp. (NYSE: FDC).
First Data is an e-commerce company that processes payments for banks and financial institutions. The firm processes trillions of dollars in credit and debit card transactions for large and small businesses.
First Data is highly dependent on consumer spending, which has skyrocketed this year. In May, U.S. consumer spending increased 0.9%, the largest rise since 2009. August saw a 0.4% increase despite volatility in global stock markets toward the end of the month.
The First Data IPO will be the third billion-dollar IPO this year after Tallgrass Energy GP LP (NYSE: TEGP) and Columbia Pipeline Partners LP (NYSE: CPPL). The company will raise $3 billion by selling 160 million shares at an $18 to $20 price range. It's valued at $17.6 billion and will hit the market on Thursday, Oct. 15.
Here are 10 more deals on the upcoming IPO calendar, including 2015's second-largest IPO…
10 More Companies on the Upcoming IPO Calendar
Albertsons Companies Inc. (NYSE: ABS) is the third-largest U.S. grocery chain behind Wal-Mart Stores Inc. (NYSE: WMT) and Kroger Co. (NYSE: KR). Last March, Albertsons acquired grocery chain Safeway Inc. for $9.4 billion. The acquisition doubled the company's size in an effort to counter fierce competition from Wal-Mart and other large discounters. For the year ended in February 2015, Albertsons posted losses of $1.2 billion on sales of $27.2 billion. It will be the second-largest deal of the year by raising $1.6 billion. It will offer 65.3 million shares at a price range of $23 to $26. Albertsons is valued at $11.9 billion and will start trading on Thursday, Oct. 15.
Money Morning Members: Continue reading for the rest of this week's upcoming IPO calendar. For those new to Money Morning, sign up to keep reading – it's completely free…