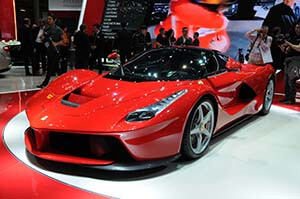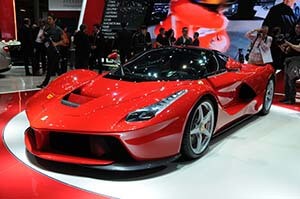 Ferrari SpA (NYSE: RACE) stock hits the market on Wednesday, Oct. 21. The luxury automaker is one of the most anticipated IPOs of 2015.
As the company prepares for its market debut, investors are wondering, "Should I buy Ferrari stock?"
Here's a closer look at the Ferrari IPO and Ferrari stock…
Everything You Need to Know About the Ferrari IPO
The Ferrari IPO set a price range of $48 to $52 a share and will announce a final IPO price on the evening of Oct. 20. The company will sell 17.2 million shares and hopes to raise $860 million.
After the IPO, Ferrari will command a $9.4 billion valuation. That's slightly higher than Renault's $9 billion valuation and lower than Porsche's $11.4 billion.
The IPO is a spin-off of Fiat Chrysler Automobiles NV (NYSE: FCAU). According to the U.S. Securities and Exchange Commission filing, Fiat Chrysler is only selling 10% of Ferrari during its IPO. FCAU shareholders will own 80% of the rest of the company and Piero Ferrari – son of founder Enzo Ferrari – will own the final 10%.
Founded in 1947 in Maranello, Italy, Ferrari is one of the most prestigious car brands in the world. Its vehicles can cost from $188,000 to upwards of $500,000. The most expensive car ever sold was a 1962 Ferrari 250 GTO for $35 million.
Ferrari maintains exclusivity by capping annual production at 7,000 vehicles. That strategy ensures demand always outpaces supply.
"There are clear expectations from ourselves as Ferrari brand is unique," said Sergio Marchionne, CEO of Fiat Chrysler, at a presentation in Turin, Italy, on July 3.
Ferrari implemented its 7,000-unit sales cap after selling a record 7,318 vehicles in 2012. It sold 6,922 cars in 2013, down 5.4% from 2012.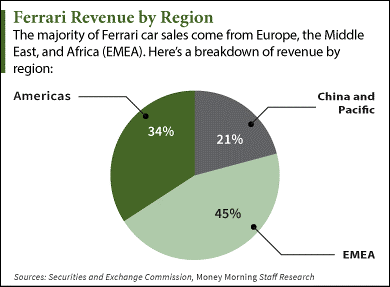 Despite lower sales, Ferrari's revenue increased 5% year over year to 2.3 billion euros ($3.2 billion). Its net profit also increased 5.4% to 246 million euros ($338.5 million) over the same period. The revenue boost came from costly personalization done on the cars.
The company said in its IPO filing it hopes to expand sales into larger Asian markets. However, government approvals and other federal regulations could hamper sales growth in the region.
"If our international expansion plans are unsuccessful, our business, results of operation and financial condition could be materially adversely affected," the IPO filing read.
With solid financials and a strong brand, investors keep asking, "Should I buy Ferrari stock?"
Here's how you should play RACE stock after the IPO next week…
Should I Buy Ferrari Stock After the IPO?