With Q3 earnings growth expected to shrink, investors need to brace themselves for the possibility of a bear market over the next several months.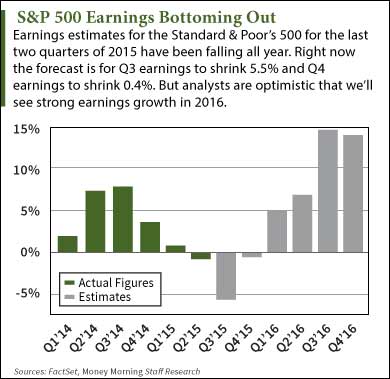 Analysts have grown increasingly pessimistic about Standard & Poor's 500 aggregate earnings in the last two quarters of 2015. June's estimates for a Q3 decline of 1% year over year have worsened to estimates of a 5.5% drop. For Q4, the estimates have swooned from a 4.3% increase to a 0.4% decline.
And that comes on top of the 0.7% decline in Q2 earnings. Two or more consecutive quarterly declines in year-over-year earnings qualifies as an "earnings recession." Such events usually coincide with bear markets. The last earnings recession occurred in 2009.
The good news is that the forecast for 2016 is for a sharp rebound in earnings growth. But stocks still need to muddle through two quarters worth of less than stellar earnings.
An earnings recession is one more negative among a sea of negatives for the stock market – and why a short-term bear market is looking increasingly likely. The S&P 500 is already down 3.23% on the year.
It means a steady drumbeat of disappointing numbers for the next six months.
Why This Adds Up to a Bear Market
"The single most determinant variable is going to be earnings at this point," Mark Freeman, chief investment officer at Dallas-based Westwood Holdings Group, told Reuters.
A decline in a company's earnings increases its price/earnings ratio, making the stock, from an investor's perspective, more expensive.
An earnings recession will only amplify the anxiety in the markets from a range of other issues, namely:
Concerns about a slowing Chinese economy
Concerns about economic weakness in the Eurozone
The decline of emerging markets as an engine of growth
Uncertainty about when the U.S. Federal Reserve will start raising interest rates
Concerns that a possible U.S. government shutdown in December will nick the U.S. economy
"There are some wicked winds swirling around from a macro perspective and you can't afford to be complacent," Alan Gayle, head of asset allocation at Atlanta-based RidgeWorth Investments, told Reuters.
The threat of a bear market, even a short-lived one, means investors need to exercise caution in the weeks ahead.
But the nature of this earnings recession will also present investors with these opportunities…