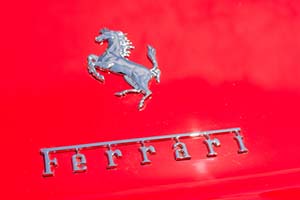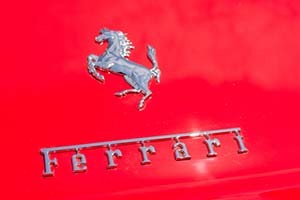 Ferrari NV (NYSE: RACE) stock started trading today (Wednesday). The Ferrari IPO raised raise $893 million by selling 17.2 million shares at $52 each. At that price, the Ferrari IPO valuation is $11.3 billion.
The Ferrari IPO valuation is 43 times larger than the company's total profit in 2014. Some traders believe that's way too high for a car company. That's 26% higher than French automaker Renault's $9 billion valuation.
But Ferrari believes it can live up to its valuation. That's because it's repositioning its brand right before the IPO…
What the Ferrari IPO Valuation Means for the Company
The reason for the huge Ferrari IPO valuation is the company's luxurious brand.
According to U.S. Securities and Exchange Commission documents, Ferrari views itself as a luxury company rather than a car company. In fact, the word "luxury" appears in the IPO filing 151 times.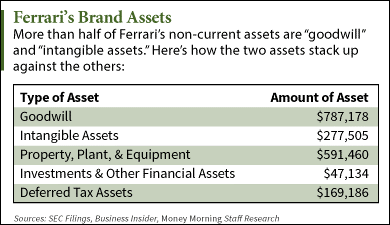 About 57% of Ferrari's non-current assets – a company's long-term investments or materials – consist of brand value. These are listed as "goodwill" and "intangible assets" on the balance sheet. Both items include the value of a company's name, copyrights, patents, and intellectual property.
In other words, "goodwill" and "intangible assets" have no physical value. Ferrari believes its luxury brand power will fuel future growth and expand sales operations.
Although it's profitable, Ferrari rebranded in order to make up for slow revenue growth. From 2012 to 2013, the company's revenue increased only 5% to 2.3 billion euros ($3.2 billion). Although it caps annual sales at 7,000 units, it came in short at 6,922 cars in 2013.
The company said it hopes to expand sales into larger Asian markets. However, government regulations could impede sales growth in the region.
"If our international expansion plans are unsuccessful, our business, results of operation and financial condition could be materially adversely affected," the IPO filing read.
With a valuation built on a non-tangible brand, traders are wondering if they should buy Ferrari stock when it starts trading on Oct. 21…
Does the Ferrari IPO Valuation Make Ferrari Stock a Buy?