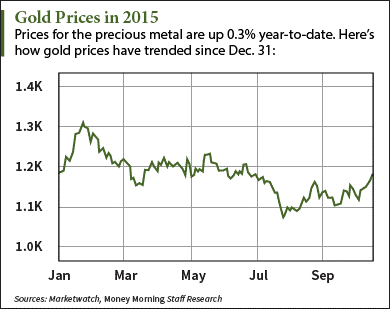 Gold and silver prices today (Thursday) settled at their highest level in four months as the Fed remains dovish and the U.S. dollar prepares for a weekly loss.
Gold prices gained 0.7% to close at $1,187.50 an ounce. That marks the highest settlement since June 19. After today's close, the gold price is up 0.3% for the year.
Meanwhile, silver prices today added 0.3% to settle at $16.16 per 5,000 troy ounces – the amount traded on each futures contract. Silver futures are up 11.3% in October and 2.7% in 2015.
The rise in gold and silver prices today came on a sliding U.S. dollar and speculation over a rebound in dollar-priced commodities. The dollar has fallen 1.9% so far this month and is on track to lose more than 0.5% this week. Commodities priced in U.S. dollars become cheaper when the dollar falls. That increases demand and moves commodity prices higher.
"The latest rally has been fueled by a three-week plunge in the U.S. dollar and small speculators expecting gold to test the $1,000 level," said Ken Ford, president of New York-based Warwick Valley Financial Advisors, to MarketWatch.
Another reason gold and silver prices today are rallying is the U.S. Federal Reserve. Metals traders believe the Fed won't raise interest rates at its Oct. 27-28 meeting.
Money Morning Resource Specialist Peter Krauth agrees there won't be a rate hike due to the Fed's obligation to accommodate volatile market conditions.
"The Fed indicated that weakness in the global economy caused its participants to vote against a rate hike," Krauth said. "But if that weakness persists, it could keep the Fed from any kind of significant rate increase for some time."
If markets remain fragile and interest rates stay near zero, gold and silver prices will resume their long-term bull run into 2016.
"And that could continue to bolster gold and gold equities and send prices higher," Krauth continued. "After four years of correcting and forming what looks like a double bottom around the $1,100 mark, gold seems ready to resume its long-term secular bull market."
Alex McGuire is an associate editor for Money Morning who writes about commodities. You can follow him on Twitter at @AlexMcGuire92 for all of the biggest commodity price updates.
The History of U.S. Interest Rates: The last time the Fed raised interest rates was nearly 10 years ago in June 2006. But what most investors don't know is that rate hikes used to be a common practice before then. This chart shows the U.S. interest rate history from 1986 to 2015…