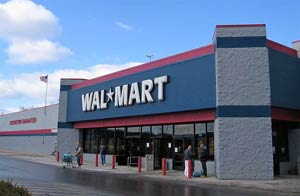 The Wal-Mart stock drop continued this morning (Thursday) as shares dipped another 1% to a 52-week low of $59.30.
That followed a punishing 10% Wal-Mart stock drop Wednesday amid growth and profit warnings for the next several years.
After falling as much as 12% intraday Wednesday, Wal-Mart Stores Inc. (NYSE: WMT) ended the session down 10% to $60.03. The company said growth over the next three years would be a lackluster 3% to 4%, sending shares lower. The company also said profit could drop up to 12% in its next fiscal year.
Wal-Mart leaders also said they expect sales growth for the current fiscal year (ending Jan. 31) to be relatively flat.
The Wal-Mart stock drop Wednesday was the sharpest decline for WMT stock in 25 years, according to Reuters.
Shares are now down 30.1% year to date.
The Wal-Mart stock drop led to $21.5 billion in market cap being wiped out in one day. In 2015, the company has lost a total of $83 billion off its market cap.
And unfortunately for investors, the yearlong WMT stock drop may not be over…
Pressure Mounts Following Wal-Mart Stock Drop
Wal-Mart employs 2.2 million people globally. It is one of the largest private employers in the United States and Canada. In the U.S. alone Wal-Mart employs some 1.4 million people.
And that's starting to have a huge impact on the company's bottom line…
In April, the company raised the minimum hourly wage it pays employees to $9. In February, that will rise to $10 for most associates. The higher pay will add $1.2 billion in costs this year and another $1.5 billion in 2016, Wal-Mart detailed.
And wages aren't the only drag on Wal-Mart's profits…