The Bernie Sanders tax plan to pay for his ambitious expansion of government social programs is riddled with flaws and risky assumptions.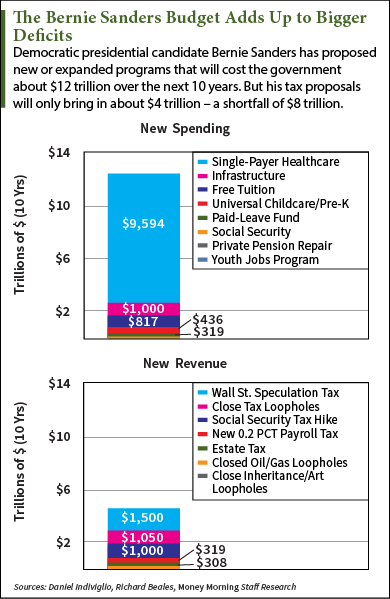 If implemented, the Bernie Sanders tax plan would cause the annual federal budget deficits to balloon, dramatically increasing the already dangerously large $18.4 trillion national debt. And many of Bernie Sanders' tax proposals would have dangerous side effects.
To be fair, the Vermont senator and candidate for the Democratic presidential nomination has all the best intentions. It's plain that he sincerely wants to help people. But America can't afford what he's proposing.
Sanders' policies, rooted in his socialist philosophy, include free public college tuition, an expansion of Medicare to all, universal childcare, and the rebuilding of infrastructure.
This week, Reuters columnist Daniel Indiviglio added up how much that would cost over a 10-year period and came up with a total of $12 trillion.
But the Bernie Sanders tax proposals intended to pay for it all – including a tax on overseas corporate profits and higher taxes on the wealthiest Americans – only add up to about $4 trillion. That's a gaping $8 trillion hole.
And some parts of the Bernie Sanders tax plan would have a dramatic impact on the markets as well as the U.S. economy.
For example, Sanders would like to eliminate the deferral U.S. corporations use to avoid paying the 35% corporate tax on foreign earnings. U.S. companies hold about $2.1 trillion overseas.
But making companies pay the full 35% tax on that money – and forcing companies to pay taxes on foreign profits as they are earned – would take a hefty bite out of the earnings of big multinational corporations.
Stocks of many big multinational companies, such as Microsoft Corp. (Nasdaq: MSFT), General Electric Corp. (NYSE: GE), and Pfizer Inc. (NYSE: PFE), would suffer.
One also has to wonder what kind of new strategies they would devise to reduce what they owe. That would reduce the projected $600 billion in revenue Sanders expects and would use to help pay for $1 trillion in infrastructure spending.
But another part of the Bernie Sanders tax plan would have an even bigger impact on Wall Street…
How the Bernie Sanders Tax Plan Would Crush the U.S. Economy