WTI crude oil prices today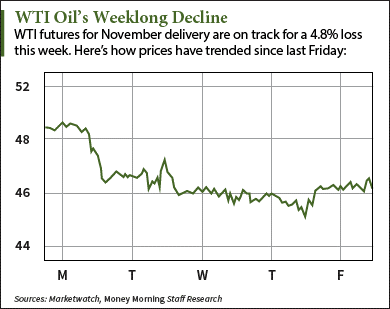 (Friday) fell 0.3% after a report from the U.S. Energy Information Administration (EIA) showed oil supplies keep climbing.
At 10:25 a.m., WTI crude oil prices today were trading at $46.25 a barrel. Yesterday, the U.S. benchmark closed at $46.38, its lowest settlement since Oct. 5. Futures are down 6.8% since last Friday but up 2.6% so far in October.
Meanwhile, Brent crude oil prices tumbled 0.6% to $49.42 a barrel today. The international benchmark is down 6.6% this week but up 0.8% this month.
The continuing decline in WTI crude oil prices today came following the EIA's latest supply numbers. Yesterday, the agency reported U.S. oil inventories grew by 7.6 million barrels last week. Total U.S. supply remains near an 80-year high of 468.6 million barrels.
Oil's weekly decline also comes on news of a potential meeting between Russia and OPEC at the end of the month. Russia and Saudi Arabia announced they're ready to discuss low oil prices since both economies desperately rely on export revenue.
"I don't think anything will ever come of that, but just the fact that they're meeting makes people nervous a little bit," said Bob Yawger, futures director at Mizuho Securities USA, to The Wall Street Journal. "The market is very sensitive to any issue dealing with production."
According to Money Morning Global Energy Strategist Dr. Kent Moors, this is a critical development for the energy industry.
Because if OPEC and Russia don't solve the oil crisis, many global economies could collapse…
Will an OPEC and Russia Meeting Boost WTI Crude Oil Prices?