China Economic Growth 2015: China's economic growth rate came in at 6.9% in Q3, slipping below 7% for the first time since 2009.
Slowing growth has raised doubts that China will be able to reach its official target growth rate of 7% for the full year. It also adds to mounting concerns about the health of the global economy and puts additional pressure on Beijing to do more to boost growth.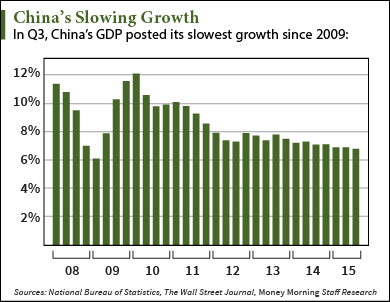 The Chinese economy has been responsible for nearly one-third of all global growth over the past seven years. The International Monetary Fund lowered its 2015 global growth forecast to 3.1% this month from its 3.3% estimate in July. The IMF cited China as a key reason for the revision.
While China economic growth in 2015 is down, the Q3 number did beat estimates. Economists had projected a Q3 GDP rate of 6.8%.
Yet instead of highlighting the better than expected results, the slight beat simply renewed debates over the accuracy of China's growth statistics. Earlier this month, China pledged it would start following a stricter global standard in calculating its data.
The China economic growth slowdown will likely cause the U.S. Federal Reserve to rethink the timing of enacting its first interest rate hike in nearly a decade.
But Money Morning Chief Investment Strategist Keith Fitz-Gerald says this slowing growth is not the catastrophe everyone will make it out to be right now.
"Chinese growth drops to only 6.9%, probably manipulated, but it's the best we've got," Fitz-Gerald said. "At this point, the Fed is completely bamboozled. Watch the China bears come out in full force. Then sweep them aside emotionally and get back down to business. Growth of 6.9% is still 6.9%, manipulated or not."
According to Fitz-Gerald, some of the China concerns are overblown. The country's economy has nearly doubled in size from six years ago. Even at a lower growth rate, China remains a key driver of global consumption and production.
As China's Premier Li Keqiang said Monday, "even though it was 6.9%, it is still a growth rate of around 7%." He touted improved employment and innovation that has helped the country restructure its economy.
Still, the slowdown has been faster than Chinese officials have expected. And that has many economists predicting additional stimulus measures...
China Economic Growth 2015 Prompts More Stimulus