Investors love McDonald's stock – but the fast food icon hasn't done anything to warrant such investor enthusiasm.
McDonald's Corp. (NYSE: MCD) stock has been trading near all-time highs recently. The McDonald's stock price reached an all-time high of $105.20 last Thursday, with shares closing Monday at $104.49.
But the Oak Brook, Ill.-based company has suffered seven straight quarters of same-store sales declines – a streak that might get extended on Thursday when we get the Q3 McDonald's earnings.
Analysts expect a year-over-year 8.1% decline in revenue for Q3, and earnings per share estimates have been revised downward from $1.31 to $1.27 over the past 90 days.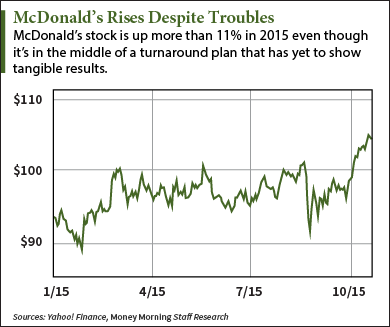 Meanwhile, the once mighty McDonald's brand is looking stale and tired, particularly next to competitors like Shake Shack Inc. (NYSE: SHAK) and Five Guys. Rivals like Panera Bread Co. (Nasdaq: PNRA) are luring people away with healthier offerings.
Management has responded with restaurant makeovers to make the chain look more upscale, and a series of menu experiments did more to confuse customers than to attract them.
And yet MCD stock is up 11.6% for the year – far outperforming the 1.5% decline in the Standard & Poor's 500 Index.
The reason McDonald's stock has done so well is investors' faith in the turnaround plan of CEO Steve Easterbrook, who took over as chief executive of McDonald's in February.
Easterbrook has promised to simplify the McDonald's menu, drastically reduce the number of company-owned restaurants, cut costs, and reorganize the company. In September, McDonald's launched its all-day breakfast as well.
Either impressed with Easterbrook's plan or cooking up plans of their own, activist investors also have jumped on McDonald's stock. Out of the 50 funds on FactSet's "SharkWatch50" list of the top activist investors, 15 held McDonald's stock as of June 30.
That's a lot of activist investors. And at least one has already made a push for radical change that he says would drive up the MCD stock price.
Back in March, Larry Robbins of Glenview Capital Management, which owns 2.9 million shares of MCD stock, proposed the company spin off its real estate holdings into a REIT (real estate investment trust). Robbins calculated such a move would push McDonald's stock to $169.
Nevertheless, McDonald's stock is anything but an obvious buy. Here's why investors should keep their distance from MCD stock for now…