Right now, many of the planet's gold miners are eking out in survival mode, breaking even if they're lucky, or losing money on every ounce they produce. It's become unsustainable.
Meanwhile, globally, there are thousands of gold mines holding tens of millions of ounces left underground. Essentially, those mines and the gold stuck inside are worthless – unless someone devises a new way to extract the "leftovers" in a safe and cost-effective way.
Well, there's a small Canadian company with the technology to do precisely that. This equipment will turn the mining world on its ear in a way not seen since the shovel was invented.
The company's "thermal fragmentation" approach will be as disruptive to mining as fracking has been to oil and gas… except that it's highly environmentally friendly.
That's welcome news, but the best part is that investors can buy shares of this company and its revolutionary technology for a song right now.
Here's how that firm is going to cut mining costs by at least 50% and send production soaring worldwide, no matter what happens to gold prices…
This Breakthrough Has Been a Long Time Coming
Gold mining has been around in one way or another for at least 7,000 years. Over that time, it has naturally managed to evolve and modernize – to a point.
Yet despite technological advances improving nearly all industries in the last few decades, gold mining has remained rather stagnant, boasting only small incremental improvements.
Mining gold is a tough business, too. It often takes decades to discover an economical deposit, then define, permit, build, and finally start pulling metal out of the ground. All the while, the business is subject to often large fluctuations in the price of its end product, gold.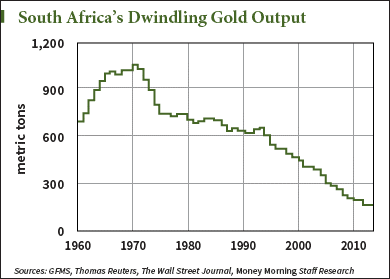 Ultimately, achieving production involves massive upfront capital expenditures and high fixed production costs. Thanks to slumping prices, the gold mining industry is about where the U.S. oil and gas industry found itself before fracking was adopted across the sector in North America.
And as we've seen in the last four years, the price of gold can fall dramatically, then stay low for an extended period.
South Africa knows this all too well. For many years until 2006, South Africa was the world's top gold producer; it's where nearly a third of all the gold ever mined in history has come from.
But today it draws a humble seventh place. The South African gold mining industry is in tatters, and output is a shadow of its former levels. In fact, of its 6,000 gold mines, only a tiny fraction are still in operation.
Clearly, gold mining is more than ready for a breakthrough. Here's what's going to save the day.
Enter the Dragon Extractor
Patented in 10 countries, this equipment allows miners to accurately target and extract narrow veins of gold or other metals.
Here's how it works.
First, a pilot hole is drilled into the gold-bearing rock. Then a thermal head is inserted and ignited, generating just sufficient heat while injecting air into the hole. That's when the fragmenting begins.
The heat cushion causes the rock walls of the hole to begin to "spall" and fall away in very small fragments of 0 mm to 13 mm. This procedure continues expanding the size of the hole until the desired dimension is reached.
It's so fast and powerful that a 1.2 m² hole is created and extracted in less than 10 minutes.
At that point, a new pilot hole can be drilled further along the gold vein and the process repeated, with resulting ore fragments containing the valuable gold.
Advantages are numerous: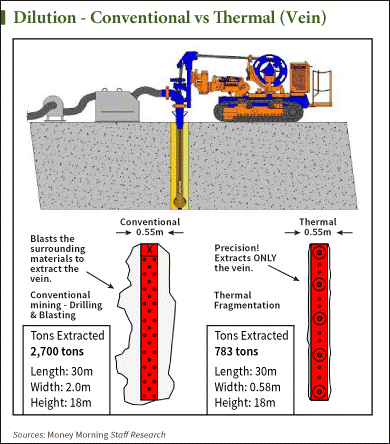 Thanks to near surgical precision, roughly 400% less ore needs to be extracted.
Since little or no blasting is involved, there is virtually none of the wall damage that is typical of standard extraction techniques, improving safety and lowering costs.
The process requires a fraction of the time needed in standard underground mining methods.
Mined ore needs significantly less processing (milling) thanks to the very small fragment size.
The method is considered "green technology" as typically 80% less ore needs to be extracted for the same metal content, massively reducing the environmental footprint. The reduced footprint often facilitates a faster path to permits, which in turn allows the gold to be mined sooner.
There are dramatic savings of water, fuel, electricity, and equipment.
Much more valuable ore can be transported longer distances for refining, allowing for major capex savings.
Overall production costs (of precious metals, for example) are reduced by 30% to 60%.
This picture illustrates just how precise thermal fragmentation is compared to conventional vein mining, leading to the multiple advantages and cost reductions I mentioned.
The implications of this are simply huge.
Suddenly, large amounts of valuable ore, previously deemed unsafe and/or uneconomical to mine, are now profitable to extract and can be converted from resources to reserves.
There is even a vast market of currently closed mines which can be brought back into very profitable production.
Here's the company responsible for all of this…
How to Play This Remarkable Development
[mmpazkzone name="in-story" network="9794" site="307044" id="137008" type="4"]
The company I'm talking about is Nippon Dragon Resources Inc. (TSX.V: NIP). It's a $4 million nano-cap enterprise trading on Canada's Toronto Venture Exchange.
Nippon Dragon already has distribution agreements in place with partners in key markets in South Africa, Japan, Australia, and neighboring countries.
In 2014, the company's South African partner/distributor (MaXem) completed very successful demonstrations to miners anxious for solutions to their numerous challenges. MaXem has recently built and allocated three new Dragon Extractors, which will begin work shortly.
The company continues to work diligently to improve and commercialize its equipment on a global scale. That's already bearing significant fruit and will over the next few years.
But Nippon has another asset, one I consider strategically important: the Rocmec 1 Mine.
Rocmec 1, located in the top mining jurisdiction of Quebec, was acquired in 2005 and has seen $41 million invested so far. That includes exploration and geological work, ramps, shafts, development, etc. The mine is fully licensed and permitted.
In May 2010, the company confirmed there were 479,100 ounces of gold in all categories at 3 grams/ton cutoff, and the deposit appears open in all directions.
Nippon plans to mine Rocmec 1's gold using the Dragon Extractor, earning thick profits on each ounce as one of the world's lowest-cost gold producers. That cash flow will be used to support expansion plans.
At the same time, the mine becomes a "showroom" to demonstrate the effectiveness of its innovative mining technology to prospective clients.
Now Is the Perfect Time to Buy
With the Dragon Extractor, every single stage of mining underground veins of gold is positively impacted.
It's forcing geologists, mine planners, mine operators, and even gold stock analysts, to totally rethink how to plan, develop, operate, and evaluate gold mines.
We're on the cusp of nothing short of a mining revolution, and that's even if gold prices were to stay where they are now.
But I expect gold to rise significantly. And thanks to the Dragon, gold mining is about to become insanely profitable.
Join the conversation! Follow Money Morning on Facebook and Twitter.