The chart for Microsoft stock over the past two years suggests the stock's solid run in 2014 peaked in early 2015.
By the numbers, Microsoft Corp. (Nasdaq: MSFT) stock rose 25% in 2014, part of a 34% rise that started in August 2013, when former CEO Steve Ballmer announced he would retire from the company.
In 2015, MSFT stock is up less than 3% and has zig-zagged a lot along the way. But don't be fooled. The Microsoft rebound is far from over.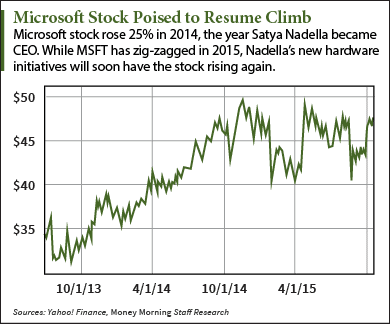 That's because the Redmond, Wash.-based tech giant has adopted a new, promising strategy – one it borrowed from the tech legend it grew up with.
"At the New York City press event on Oct. 6, Microsoft took a page out of Steve Jobs' winning playbook," said Money Morning Defense & Tech Specialist Michael A. Robinson. "What we saw was a series of new hardware products coming from a company that is renowned as one of the biggest software firms on the planet."
Of course, Microsoft also just released Windows 10, the latest version of its venerable operating system. It's the one element that ties Microsoft's ecosystem together, as all the new hardware is optimized for it.
Robinson likened Microsoft's new focus on hardware to Apple Inc.'s (Nasdaq: AAPL) strategy of building an entire "ecosystem" of hardware, software, and services that work together to give the customer a better experience while encouraging them to buy more of your products.
The Apple ecosystem has made Apple the biggest company (by valuation) in the world.
"The ecosystem approach means you'll be able to rely on Microsoft for all your computing hardware needs – a fitness band/watch, a smartphone, a tablet, a laptop, even a virtual reality headset," Robinson said. "Really, this is some of the most exciting and potentially profitable news we've ever had from Microsoft."
Here's how the evolving Microsoft ecosystem will generate billions of dollars in value for investors…