Google Inc. (Nasdaq: GOOG, GOOGL) reported Q3 2015 earnings after the bell on Thursday, Oct. 22. These will be the first Google earnings the company will report as Alphabet Inc.
And it's a real doozy. Google stock has already popped 8% minutes after release:
Alphabet reported revenue of $18.7 billion, topping forecasts of $18.54 billion. That's a 13% increase in revenue year over year.
Earnings per share (EPS) came in at $7.35, beating EPS estimates of $7.21, according to Thomson Reuters. A year earlier, the company earned $6.35 a share on the same basis.
Alphabet reported a strong operating cash flow of $6.0 billion.
It noted "substantial growth of mobile search revenue, complemented by contributions from YouTube and Programmatic Advertising."
"Our Q3 results show the strength of Google's business, particularly in mobile search. With six products now having more than 1 billion users globally, we're excited about the opportunities ahead of Google, and across Alphabet," said Ruth Porat, CFO of Alphabet and Google.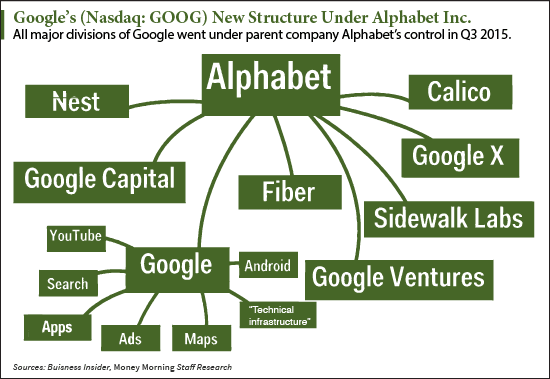 Indeed, it was an impressive 13 weeks for the innovation powerhouse…
GOOG stock rose 17.94% in Q3 alone (from June 30 through Sept. 30). That's an $81.8 billion market cap increase — which means Google almost tripled the entire value of eBay Inc. (Nasdaq: EBAY), worth $29.4 billion, in a single quarter.
As remarkable as that sounds, Google's latest push into some truly surprising fields is the real standout story right now.
After strong Google earnings, here are five of the most ambitious projects Google has already dived into in its fourth quarter 2015…
5 of the Most Ambitious Google (Nasdaq: GOOG) Projects in Q4
GOOG Q3 Project No. 1 – Africa's largest wind farm:  On Oct. 20, Google bought a 12.5% stake in Africa's largest wind farm project, Kenya's Lake Turkana. Danish wind turbine manufacturer Vestas Wind Systems A/S owns the project, which is expected to be completed in 2017.
According to Bloomberg, the Lake Turkana wind project will have a capacity of 310 megawatts and will cost about $700 million. It will power roughly 2 million homes once connected. That means it will deliver 15% of Kenya's current grid capacity.
"We are making a commitment to invest in Lake Turkana because it makes financial sense, but also because it has the potential to have a massive impact on Kenya's grid, helping to spur the deployment of renewable energy in one of the world's fastest-growing countries," Google Vice President of Energy John Woolard said.
Google has invested more than $2 billion to 22 clean energy projects to date. This is the firm's second such investment in Africa (it bought into the Jasper solar project in South Africa in 2013).
GOOG Q3 Project No. 2 – Solar-powered contact lens: Google was awarded a patent for a solar-powered contact lens on Oct. 13. These things do way more than just correct vision…
According to TechInsider, the firm originally announced its smart contact lens project in 2014, with a goal of using them to measure glucose levels in tears using a tiny wireless chip and a tiny glucose sensor.
But the new patent reveals more ambitious plans. According to the patent filing, the latest version can collect biological data about the wearer via sensors that detect a range of biological data, such as internal body temperature and blood-alcohol content. According to the patent, it may also gather environmental data like potential allergens (grass, pet dander, etc.). And it can communicate with computers to log all this data.
GOOG Q3 Project No. 3 – Auto insurance provider: The tech giant already got a foothold in the auto insurance business with "Google Compare." The service allows web users to shop for the best rates. And Google Compare Auto Insurance Services Inc. is licensed to sell insurance from providers like MetLife in 26 states.
But GOOG's role in the subindustry took a huge leap on Oct. 7 when it became an auto insurance provider itself. The company announced it will accept liability for any accidents that result from a component or design flaw in one of its Autonomous Vehicles (AVs).
You see, insurance has long been a speculative pitfall for AVs. "It's going to be very complicated," Joe Woods, the Vice President of government relations at Property Causality Insurance Association, told Big Country back on Sept. 21. "Whose fault is it when two of these cars hit? Did it fail because the system failed, the software was bad, the hardware was put in wrong, or maybe one of the drivers overrode the system? Those are complicated issues when you get into a courtroom and could be very expensive for an insured driver."
Google's move this quarter took a step toward making AVs a reality for drivers.
GOOG Q3 Project No. 4 – Business suite: Shortly after Microsoft Office 2016's Sept. 22 launch, Google knocked some wind out of its rival software giant's sails.  On Oct. 19, Google waived the price of its "Google Apps for Work" package for a six-month period for customers who drop their Microsoft Corp. (Nasdaq: MSFT) and other competitor contracts (IBM Corp. (NYSE: IBM) is the other big player in this space). The company said it will additionally pay up to $75,000 to each company switching to its software to cover the costs of making the change.
Google Apps for Work includes the word processing, spreadsheet, and calendar, forms, and presentation tools analogous to Microsoft's Word, Excel, PowerPoint and other products. Google says customers can save up to 70% by switching.
In its offer, GOOG stated that more than 600 organizations with 10,000 or more employees already use Apps for Work.
GOOG Q3 Project No. 5 – The biggest library in the world: A landmark ruling in favor of Google happened in Q3 2015. On Oct. 16, Google Books — which has been under dispute for 10 years — officially became legal.
In 2004, Google began to scan both copyrighted and non-copyrighted books in academic libraries. It intends to make portions of the material freely available online. In other words, web users can read snippets of books, or search for keywords within. But the Authors Guild sued Google to cease and desist, arguing the service violated its members' copyright protections.
Google emerged victories under the fair use doctrine, which allows people use and adapt copyrighted works without getting express permission.
"[The court's decision] isn't only good news for fans of Google Books," writes The Atlantic on Oct. 20. "It helps makes the legal boundaries of fair use clear to other organizations who may try to take advantage of it, including libraries and non-profits."
Tweet the author @TaraKateClarke, or leave a comment on Money Morning's Facebook page.
Social Security's COLA Math Is a Joke: The Cost of Living Adjustment is meant to ensure that Social Security checks keep pace with inflation. Yet seniors have seen a 74% increase in expenses since 2000, while benefits have risen just 43%. The problem is how this measure is calculated…
Related Articles: