The risk of an upcoming bear market continues to grow as we reach the end of 2015. That's why we're recommending some bear market stocks that are perfect when markets fall.
A bear market is when a market falls 20% from its high point. At today's opening price of 17,225.93, the Dow Jones has fallen 6.1% from the high it set in May. So we still have a ways to fall before hitting a bear market - but these drops can happen quickly.
During the financial crisis of 2008, the Dow dropped more than 22% in less than one month between September and October.
Here are the three biggest warnings signs we've seen that a bear market could be closer than a lot of Wall Street experts think - plus the best bear market stocks to buy before it happens...
The 3 Biggest Bear Market Warning Signs We've Seen
The first indication of a bear market in 2015 is the dismal outlook for Q3 earnings.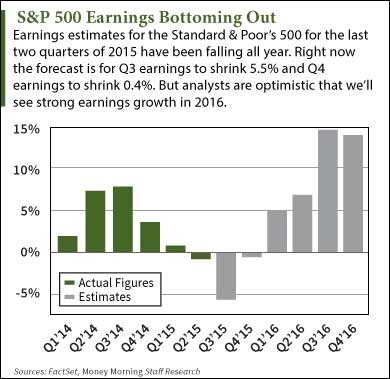 According to FactSet, S&P 500 aggregate earnings for Q3 are expected to drop 5.5% year over year. And that's much worse than the initial estimate from July, which called for a drop of just 1% in aggregate earnings.
Sign up for SMS so you never miss special events, exclusive offers, and weekly bonus trades.
Aggregate earnings fell 0.7% in Q2 2015, meaning another drop in Q3 would constitute an "earnings recession." An earnings recession happens when you have two or more straight quarters of year-over-year declines.
Things don't look much better for Q4 either. FactSet estimates earnings will drop 0.4% year over year.
But an earnings recession isn't the only indication of an approaching bear market...
Slowing economic growth in China has also put pressure on global markets. In fact, a new report from the National Bureau of Statistics this week shows that China's economic growth was just 6.9% in Q3. That was the first time it dipped below 7% since 2009.
The Chinese economy has been responsible for nearly one-third of all global growth over the past seven years. The International Monetary Fund lowered its 2015 global growth forecast to 3.1% this month from its 3.3% estimate in July. The IMF cited China as a key reason for the revision.
China has had a major impact on U.S. markets in 2015. Between late-July and late-August, the Dow Jones dropped more than 13% as China's stock market crashed.
Money Morning Capital Wave Strategist Shah Gilani says the entire market is changing directions right before our eyes...
"The market shows it's weakening when breadth declines. When the market's moving up but fewer and fewer stocks are participating in that up-move, which can be generated by a handful of big stocks with heavy weightings in a market index, a change in direction is usually on the way," Gilani explained.
"Another way to see directional change happening is when the trend of more stocks making 52-week highs reverses and fewer stocks are making new highs, while the number of stocks making 52-week lows is increasing."
Because of these three glaring indicators, we've compiled the best bear market stocks to buy when the markets start falling. Not only will these investments protect your wealth, they'll also help you profit when others are panicking...
The Best Bear Market Stocks to Buy Now