Amazon.com Inc.'s (Nasdaq: AMZN) upcoming earnings report on Thursday takes on a whole new significance in light of Wal-Mart Stores Inc.'s (NYSE: WMT) bombshell announcement that it's expecting a 6% to 12% earnings cut over the next two years.
Expectations are high this close to earnings, and the volatility I'm seeing with AMZN shares tells me traders are afraid Amazon might not deliver this week.
But I'm going to show you a cool chart – one that less than 1% of all traders and investors ever see – that reveals a juicy opportunity for us in this atmosphere of nervous anticipation.
So let's keep our cool and make some money as Amazon's "moment of truth" gets closer…
The Stock Chart Everyone Wants to See
The stock chart you see in front of you is a special chart. This chart shows Amazon's share price along with the result of the last earnings report back in late July, but it shows something else as well…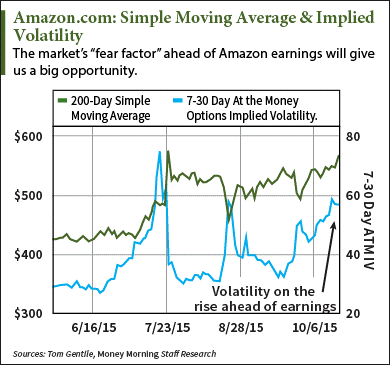 The blue line you see moving up and down – that's not a moving average or any popular technical indicator. That line is the implied volatility for the near-money options that trade on Amazon, and it's really rare, valuable data.
Here's what it means for us.
I like to call this line the "fear factor" line. As the line goes down, there is less fear of the day-to-day movement of the stock. As the line goes up, so does the uncertainty about the future and, of course, options prices.
For Amazon, the option's implied volatility trades in a range of 20 to 80. If the line goes from 20 to 80, it basically means that an option's time value theoretically increases by a factor of four.
Now let's create an outlook for this week's Amazon earnings. Even though most people know that Amazon has met or beat expectations in three of the last four quarters, I am more interested in what the stock did before and after earnings…

So in the week leading up to earnings the last four times Amazon reported, we saw an average share-price move of 4.18%, mainly to the upside. This was before earnings, but not through earnings.

Now, in the days following earnings, AMZN stock moved an average of 15.31%, with three out of the four quarters moving higher by double digits.
Put these two spreadsheets together and you are talking an average 20% move to the upside on the stock in three of the last four quarters.
AMZN: Here's How We'll Play It
First, it makes sense to actually look at the near options expiring this week. This gives us a gauge of how far the stock could go just after the report.

As of earlier this week, AMZN October 15 2015 $570 (AMZN151015C00570000) calls and AMZN October 15 2015 $570 (AMZN151015P00570000) puts expiring this week are trading at around $50 when combining the costs. That's what I like to do to get a read on where this stock might go after earnings. We want to see the range right around $50.
Now we have to consider the likelihood that Amazon stock will head higher after earnings. I think the shares have a 75% chance of heading higher against a 25% chance of heading lower.
But this does not – repeat, not – mean we should go for a straddle…
Join the conversation. Click here to jump to comments…
About the Author
Tom Gentile, options trading specialist for Money Map Press, is widely known as America's No. 1 Pattern Trader thanks to his nearly 30 years of experience spotting lucrative patterns in options trading. Tom has taught over 300,000 traders his option trading secrets in a variety of settings, including seminars and workshops. He's also a bestselling author of eight books and training courses.