McDonald's stock rose as much as 8% in early trading today (Thursday) following solid Q3 earnings that beat Wall Street expectations.
By mid-day, McDonald's Corp. (NYSE: MCD) stock gave back only a little of those gains. MCD stock was up just over 7% to $109.75.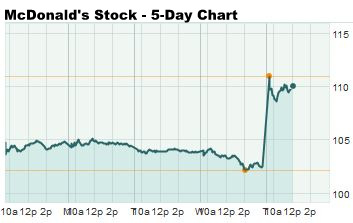 The Oak Brook, Ill.-based fast-food giant beat on both the top and bottom lines. McDonald's earned $1.40 a share, or $1.31 billion, on sales of $6.62 billion. The consensus forecast was for earnings of $1.27 a share on revenue of $6.41 billion.
But what really caught Wall Street's attention was the 4% increase in same-store sales – the first gain in this metric after nearly two years of declines. Analysts had expected only a 1.7% increase.
McDonald's restaurants in China saw an impressive 8.9% increase as customers seemed to forgive the company for reports last year that it had used expired meat. U.S. same-store sales rose a modest 0.9%.
"While still in the early stages, we believe our turnaround plan is starting to generate the change needed to reposition McDonald's as a modern, progressive burger company," said CEO Steve Easterbrook, who took over as chief executive of McDonald's in February.
The McDonald's Q3 earnings is obviously good news for the company, but does it make McDonald's stock a buy?
Should I Buy McDonald's Stock Now?
The answer to that question is not so obvious.
For one thing, MCD stock is still expensive relative to earnings. With today's spike in the McDonald's stock price, the price/earnings ratio is up to 25.5, substantially higher than its five-year average of 17.3.
While Easterbrook's turnaround plan appears to be gaining traction, it looks like the market has already priced most of that in. For anyone thinking of buying McDonald's stock now, that doesn't leave a lot of upside.
With today's gains, McDonald's stock blew past its previous all-time high of $105.20 set last week (the new high, set today, is $110.88).
There's also some risk that the turnaround plan will falter. In a recent survey by Nomura analyst Mark Kalinowski, McDonald's franchisees expressed a lot of doubts about it.
"The system is very lost at the moment," one franchisee told Kalinowski. "Our menu boards are still bloated, and we are still trying to be too many things to too many people. … Things are broken from the franchisee perspective."
However, for income investors, MCD stock is a safer bet now. The 3.24% dividend yield was already attractive, and the McDonald's Q3 earnings beat suggest it's also sustainable.
While the payout ratio had risen to a concerning 72.3%, improving earnings will help generate the cash flow needed to maintain the dividend. As a company that has raised its dividend 38 years in a row, McDonald's would very much like to be able to afford future increases.
Despite the impressive MCD Q3 earnings, the company still isn't completely out of the woods.
"If you like the 3.24% yield, that's another matter, but the notion of MCD as a growth stock is done until they get back in touch with their core branding," said Money Morning Chief Investment Strategist Keith Fitz-Gerald.
The Bottom Line: The McDonald's Q3 earnings are a step in the right direction but don't necessarily make the stock a buy. Right now MCD stock is relatively expensive and the long-term success of its turnaround plan is not assured. However, with the company on more solid footing, McDonald's stock might work for some income investors.
Follow me on Twitter @DavidGZeiler.
Yum! Brands Spin-Off: Yum Brands stock rose as much as 5% after announcing plans to spin off its China operations into a separate publicly traded company. Here's why Yum! wants to do the spin-off – and why Wall Street thinks it's a good idea…