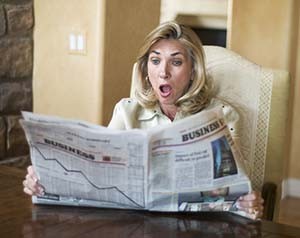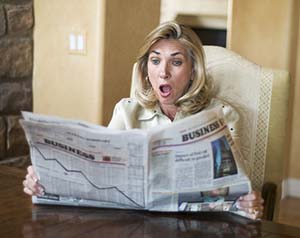 Here are this week's need-to-know facts about the stock market, economy, Wall Street, and life-changing global events...
It's the numbers that count in this crazy world. They can tell stories that words sometimes can't.
Here's a look at some of the fascinating, infuriating, amusing, depressing, and altogether important numbers that the world has put up on the board recently - and why you need to know them...
6.9%: China's economic growth rate - if you're to believe the "official" number the Chinese government reported on Monday. (Pssst: We don't.) That's the first time China's growth has dipped below 7% since 2009. It raises doubts the country will be able to hit its official target growth rate of 7% for the full year. It also adds to mounting concerns about the health of the global economy and puts additional pressure on Beijing to do more to boost growth.
-40%: The amount shares of Valeant Pharmaceuticals International Inc. (NYSE: VRX) dropped in a single morning this week. On Wednesday, a scathing report from short-selling firm Citron Research entitled "Could this be the Pharmaceutical Enron?" sparked the dive. Citron alleged Valeant engaged in a series of sham transactions to inflate its drug sales. Not to brag, but we totally called this one...
+15.4%: The per-share gain investors in Ferrari saw when RACE stock debuted on the New York Stock Exchange on Wednesday. The Ferrari IPO priced at $52 on Tuesday. RACE stock opened at $60 a share the next morning. Based on opening price, that means Ferrari commands a valuation of $11.3 billion. But should you invest? Not so fast...
$81.8 billion: The amount Alphabet Inc.'s (Nasdaq: GOOG, GOOGL) market cap increased in the third quarter. That means Alphabet nearly tripled the entire value of eBay Inc. (Nasdaq: EBAY), worth $29.4 billion, in a single quarter. Here's a recap of the impressive earnings numbers GOOG posted after the bell on Thursday - plus a look at its biggest projects in Q4...
10%: The stake Oprah Winfrey disclosed she took in Weight Watchers International Inc. (NYSE: WTW) on Monday. Winfrey purchased the stock at $6.79 per share for a total investment of $43.2 million. WTW stock soared more than 125% this week on the news. Is WTW a buy right now? Here's our take...
923%: That's how much more profitable Amazon Web Service (AWS) was in the third quarter compared to the company's North American retail business. An incredible feat considering retail is supposed to be Amazon's core business. Apparently AWS is catching on... a lot. The enormous, competition-smashing offering is AMZN's relatively new cloud-computing business - it posted $2.1 billion in sales in Q3, a 78% surge from the year-ago quarter. Check out all the noteworthy numbers in Amazon.com Inc.'s (Nasdaq: AMZN) Q3 earnings this week here...
$102.15: We're sure Facebook Inc. (Nasdaq: FB) CEO Mark Zuckerberg "liked" the record-high Facebook stock price at market open today (Friday). Its previous intraday high was $99.73, which the stock hit Thursday. The number has investors expecting a similar earnings beat from Facebook when the company reports on Tuesday, Nov. 4...
-78%: MarketWatch reported on Monday that Microsoft CEO Satya Nadella's total compensation dropped 78% to $18.3 million for 2015. Don't feel too badly for him - the decrease is tied to a drop in Nadella's stock compensation. The loss is offset by a 31% rise in his base salary to $1.2 million and a 20% increase to his cash bonus to $4.3 million, according to the latest securities filing. Based on these 2016 Q1 Microsoft earnings reported on Thursday, Nadella's worth it.
-29.7%: The amount the S&P 500 Biotechnology Select Industry Index is down since July 20. The Nasdaq Biotechnology Index has also lost 24% in the same period. Meanwhile, the broader S&P 500 is up 2.8% since Aug. 29. Here's what has biotech stocks down in the dumps lately...
11 hours: The amount of time Democratic presidential hopeful Hillary Clinton sat in the same chair to testify before the Benghazi committee. Here are the three toughest questions she faced, and her answers...
Tweet the author @TaraKateClarke, or leave a comment on Money Morning's Facebook page.