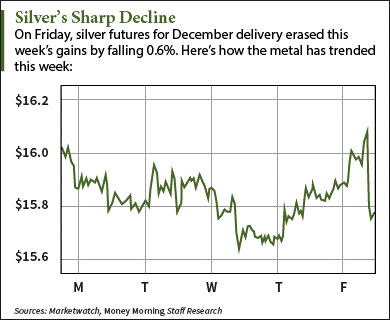 Silver prices today (Friday) fell 0.6% despite the European Central Bank's (ECB) potential plans to expand its $68 billion bond-buying program.
At 9:45 a.m., silver prices today were trading at $15.75 per 5,000 troy ounces – the amount traded on each futures contract. Silver futures are on track for a weekly loss of 2.2%. However, silver futures are now up 0.1% for the year.
The decline in silver prices today came against bullish news that the ECB is considering new economic stimulus measures. ECB President Mario Draghi said yesterday he might expand the bank's $68 billion bond-buying program known as quantitative easing (QE).
Quantitative easing is the ECB's primary stimulus method. Through QE, the ECB transfers a government bond from a commercial bank's balance sheet to its own. The bond then shows up as an asset on the ECB's balance sheet. Once the transfer completes, the ECB credits the commercial bank with the value of that bond. These deals alleviate debt loads and stimulate economic activity.
Silver and gold prices typically benefit from QE. That's because investors usually buy metals as "safe haven" investments due to concerns the extra money supply will fuel inflation. Precious metal demand increases because money becomes less valuable when more of it is printed out.
Here's how investing in a safe haven like physical silver can save your portfolio from potential ECB woes…
How to Safely Benefit from Silver Prices Today