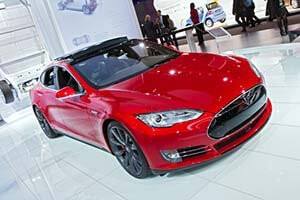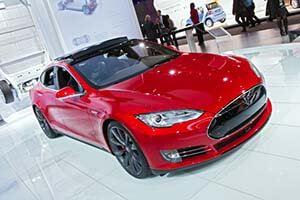 The Tesla stock price today (Monday) climbed as much as 2% from Friday's close after the company announced record sales in China for Q3.
Tesla Motors Inc. (Nasdaq: TSLA) sold 1,345 vehicles in China this quarter. That beat Q2 China sales of 883 vehicles and Q1 sales of 797. Through the first nine months of the year, Tesla has sold a total of 3,025 Model S sedans in China.
China sales accounted for 11% of Tesla's total sales total in Q3, but the company expects that share to grow. CEO Elon Musk told the Chinese news agency Xinhua News he expects China sales to match U.S. sales in the next five or six years.
While the Tesla stock price today is climbing, TSLA has been extremely volatile lately.
Last Tuesday, the Tesla stock price dropped 11.3% intraday after Consumer Reports withdrew its recommendation of the Model S sedan citing "poor reliability."
The huge drop was the typical kind of overreaction we frequently see from Tesla investors. The critical report said drivers would typically have issues with the Model S sedan's charging equipment, the drivetrain, and the "iPad-like" center console.
However, the report also said that 97% of Tesla owners plan to buy another Tesla in the future.
Still, the headlines stole the show and investors fled TSLA stock.
But according to Money Morning experts, Tesla stock is a great buy for investors willing to accept some risk. It's dangerous to hold TSLA stock short term because of those wild price swings, but this is one of the best long-term stocks on the market...
Tesla Stock Price Today Climbs and Will Head Higher