The most anticipated earnings report of the season comes today when Apple Inc. (Nasdaq: AAPL) reports its fiscal Q4 results after the bell.
Our long-term outlook on Apple remains bullish. I see this stock going to $200 a share.
We'll hang on to AAPL and watch it grow. In the meantime, there are ways to score extra profits every quarter when earnings trigger short-term moves in Apple's share price. Last quarter, for example, my Money Calendar Alert members made as much as 175% on AAPL stock in the 11 days it took shareholders to book just 2.46%.
I spot these opportunities by studying price patterns before and after earnings reports. The best part is, with the right strategy, it doesn't matter which way the stock moves, just that it moves.
And from what my charts show me today, this is the perfect way to trade Apple at earnings time…
Tracking AAPL Price Moves Ahead of Earnings
While many options strategies are directional – relying on the underlying stock to go either up or down to be successful – some are non-directional. They just need the share price to move to pay off for the trader.
That's why earnings season is the best time of year for traders; reports trigger short-term jumps and dips in share price. And my option analysis tools can tell me a great deal of information about the behavior of stocks before and after their earnings over the last four quarters.
For Apple, Q4 earnings typically aren't the most interesting. They come out before the big holiday sales quarter, which is why January's Q1 report is the company's biggest.
But today's earnings report could have a bigger impact on AAPL stock than the usual Q4 release, as it will really give us an idea of what the consumer was thinking during the China crisis last month.
You see, not that long ago, there were concerns that China was going to put a dent in Apple's year-over-year growth potential.
Apple CEO Tim Cook assured investors it didn't. Cook said iPhone sales hit record highs in China.
But the stock market wasn't buying it. AAPL actually went down twice. Once was during the market's 1,000-point blip on Aug. 24, when it sunk to $92 from its previous close of $105.76, and again on Oct. 1, when it dropped almost 3% to $107.40.
In October, overall market sentiment and seasonal forces took over and pushed AAPL – and the majority of stocks – up above September highs. Friday was the real breakout day for Apple, as it stabbed above the resistance level of $117 to close at $119.08. Now AAPL has a chance to make it back to the July highs of $132.50.
This volatility is evident in Apple's chart – it's a tough one to read when it comes to price, unless you are looking at the week prior to earnings announcements…
AAPL's One Consistent Price Pattern
A look at this year's AAPL chart shows how price and volatility rise into earnings: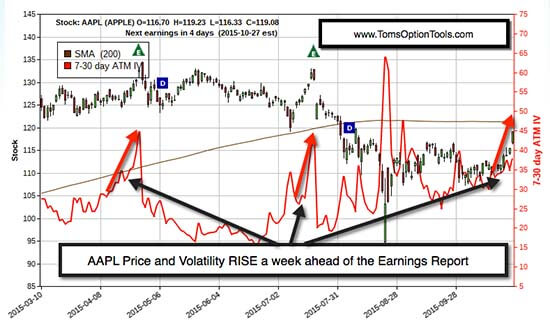 In April, AAPL rose 10 points the week ahead of the company's earnings report, and volatility about 15.  In July, it was about the same.
AAPL rose about 10 points once again before trading started Monday. But volatility has hardly budged. I believe the stock was just waiting for options traders to kick in their bets yesterday and today.
But Apple's last two earnings reports point to an interesting shift…
Join the conversation. Click here to jump to comments…
About the Author
Tom Gentile, options trading specialist for Money Map Press, is widely known as America's No. 1 Pattern Trader thanks to his nearly 30 years of experience spotting lucrative patterns in options trading. Tom has taught over 300,000 traders his option trading secrets in a variety of settings, including seminars and workshops. He's also a bestselling author of eight books and training courses.