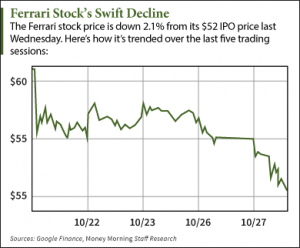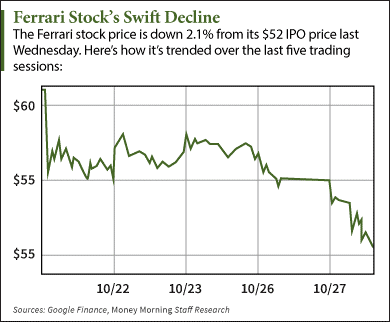 The Ferrari stock price dropped below its $52 offer price today (Tuesday). IPO investors have now lost money less than one week after the company went public. At 1:30 p.m., Ferrari NV (NYSE: RACE) stock was down 7.5% and trading at $50.90.
Before today's drop, shares of the luxury automaker have been mostly flat since the IPO. After gaining 5.8% on its first day of trading last Wednesday, the Ferrari stock price stayed in the $55 to $57 range over the next three sessions.
Now the company is feeling the repercussions of the volatile IPO market. According to Renaissance Capital, a manager of IPO-focused ETFs, 2015 IPOs have seen an average decline of 4.6% from their offer price. The biggest IPO of the year – First Data Corp. (NYSE: FDC) – priced 11% below its range and is also down more than 7% today.
On Oct. 20, the Ferrari IPO raised $893 million by selling 17.2 million shares for $52 each. After Ferrari stock opened at $60 a share on its first day, the company commanded an $11.3 billion valuation.
Ferrari's valuation has been considered by some analysts to be way too high for a car company. After all, it's 43 times larger than the company's total profit in 2014.
But Ferrari believes its valuation is appropriate because it boasts one of the most luxurious brands in the world…
According to U.S. Securities and Exchange Commission documents, Ferrari sees itself as a luxury company rather than just a car company. The word "luxury" actually appears in the IPO filing 151 times.
Roughly 57% of Ferrari's non-current assets – a company's long-term investments or materials – consist of brand value. These are listed as "goodwill" and "intangible assets" on the balance sheet. Both items include the value of a company's name, copyrights, patents, and intellectual property.
In other words, "goodwill" and "intangible assets" have no physical value. Ferrari believes its luxury brand power will fuel future growth and expand sales operations.
With the Ferrari stock price already below the IPO price, investors wonder if this is a good buy-in point…
At $50.90, Should You Buy Into the Ferrari Stock Price?