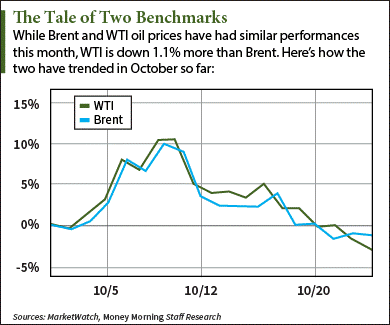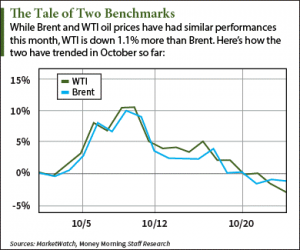 WTI crude oil prices today (Tuesday) dipped 1.4% as the U.S. benchmark falls deeper into a two-week slump.
At 8:30 a.m., WTI crude oil prices today were trading at $43.38 a barrel. Yesterday, the U.S. benchmark closed at $43.98 – the lowest settlement since Aug. 27. Futures are down 4.8% in October.
Meanwhile, Brent crude oil prices were down 0.6% to $47.24 a barrel today. Futures for the global benchmark have fallen 6.4% since Oct. 16. They're down 3.7% so far this month.
The decline in WTI crude oil prices today comes before the start of the U.S. Federal Reserve meeting. Traders are focusing on whether or not the FOMC will raise interest rates in 2015. An interest rate hike would strengthen the dollar and make dollar-denominated commodities like oil more expensive to other countries.
However, analysts say the Fed will likely hold off on a rate hike due to recent market volatility. After all, the Dow Jones Industrial Average is down 2.3% over the last six months.
But oil investors are more worried about Iran. The market has been anticipating the return of Iranian oil ever since the nuclear deal was struck, allowing the country to ramp up oil exports.
"In short term, the bearish momentum seems to be building up as prices slowly inch downward," said Daniel Ang, energy analyst at Phillip Futures, to MarketWatch. "At the end of the day, we would think that as we draw nearer toward November, the idea of Iranian oil coming back could still be putting a stop to any bullish momentum."
Investors worry Iran will flood the oversupplied market with more crude and send prices to new lows. With WTI crude oil prices in the $40 range, some think Iranian exports could be the breaking point that crashes the oil market.
But Money Morning Global Energy Strategist Dr. Kent Moors says Iranian oil won't have the negative impact investors are worried about…
How the Iran Nuclear Deal Will Affect WTI Crude Oil Prices