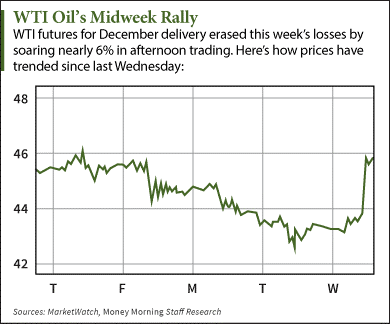 WTI crude oil prices today (Wednesday) gained 5.7% following the U.S. Federal Reserve's decision to keep interest rates unchanged. The Fed's decision overshadowed a bearish supply report from the U.S. Energy Information Administration (EIA).
At 2 p.m., WTI crude oil prices were trading at $45.65. Earlier this week, the U.S. benchmark closed at $43.98 – the lowest level in two months. Futures are now up 2.4% for the week and 0.2% for the month.
Brent crude oil prices gained 4.2% to $48.78 a barrel. The global benchmark has gained 1.6% this week but lost 0.6% in October.
Oil prices rallied in the hours leading up to the 2 p.m. announcement as investors widely expected the Fed to delay a rate hike. Keeping interest rates near zero lowers the value of the dollar. That increases the price of dollar-denominated commodities like oil.
Today's rebound in WTI crude oil prices came despite a worse than expected supply report. The EIA said U.S. oil inventories gained 3.4 million barrels last week. That's well above the 1.6 million barrel increase forecast by Platts-polled analysts.
Despite today's gains, oil prices still have a long way to go. According to Money Morning Global Energy Strategist Dr. Kent Moors, oil companies are drowning in debt as prices struggle to stay above $45 a barrel.
But as with any market situation, there are always investment opportunities. You just need to target companies investing in cost-efficient drilling projects.
This is the type of oil company you can profit from during the current low price environment…
Follow us on Twitter: @moneymorning
Like us on Facebook: Money Morning