I happen to be particularly good at picking out stocks that are going down.
Valeant Pharmaceuticals Intl. Inc. (NYSE: VRX) is the latest example you've seen - and, I hope, made money on. It's lost 32% since I called it out as "everything that's wrong with the market" earlier this month. (See below for the latest on that snarl. It's getting very entertaining.) We've also focused on Glencore Plc. (LON: GLEN), Rio Tinto Plc. (NYSE ADR: RIO), and BHP Billiton Ltd. (NYSE ADR: BHP), which are going down on a longer time frame. I've got a lot more in store for you, too... and not just on the downside.
Picking stocks that will go down is not magic. I've been doing this for 25 years. There are also technical and credit analysis tools I've developed. We'll go over these. You'll see right away why they're so powerful and how to use them yourself.
And it's going to serve my clients - and my readers - very well in the coming Super Crash.
Especially if you know how to use this  trading strategy.
Profit on Stocks That Are Going Down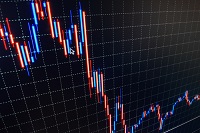 A lot of folks - especially individual investors - don't like to bet on stocks that are going down. That's understandable. It doesn't feel as good to bet against something. Plus, stocks have seen near-uninterrupted gains for six years, thanks to central bank meddling. But I strongly believe it would be prudent for investors to hedge their gains of the last five years; trees don't grow to the sky, especially when their roots are rotting.
Today I want to talk about my favorite way to profit on stocks that are going down.
Now don't get me wrong - not every stock is going to go down. For example, earlier this year, I recommended Microsoft Corp. (Nasdaq: MSFT) in a column on Money Morning. I thought the stock was very cheap for a number of reasons. Well, last week MSFT hit an all-time high. There are other MSFTs out there, and I will continue to find them.
But the same techniques that I use to find undervalued stocks will also help us find overvalued stocks like Valeant. I was gratified to hear from the many readers who profited from that recommendation.
I'm still following this story. VRX held a long press conference Monday accompanied by a 90-page PowerPoint presentation that was designed to clarify its murky relationship with pharmacy company Philidor. It also tried to explain why it sells a significant amount of its products through this type of pharmacy channel, why it paid $100 million for an option to purchase Philidor, and why it didn't previously disclose this material relationship to investors. Suffice it to say that investors and analysts were not convinced by the company's explanations. We also learned that the company has received another subpoena, this time from the U.S. Justice Department regarding its Bausch & Lomb business. This is likely to be in a long line of subpoenas regarding the company's business practices. The stock has settled at around $110 per share for the moment but is tarnished by the company's opacity and lack of disclosure that only compound doubts raised by its predatory business model and high debt levels.
As I continue to show you stocks that are going down, how you trade them is up to you and your financial situation and risk tolerance. There are a few ways to trade from the short side, but one that I like best.
Join the conversation. Click here to jump to comments…
About the Author
Prominent money manager. Has built  top-ranked credit and hedge funds, managed billions for institutional and high-net-worth clients. 29-year career.