I happen to be particularly good at picking out stocks that are going down.
Valeant Pharmaceuticals Intl. Inc. (NYSE: VRX) is the latest example you've seen - and, I hope, made money on. It's lost 32% since I called it out as "everything that's wrong with the market" earlier this month. (See below for the latest on that snarl. It's getting very entertaining.) We've also focused on Glencore Plc. (LON: GLEN), Rio Tinto Plc. (NYSE ADR: RIO), and BHP Billiton Ltd. (NYSE ADR: BHP), which are going down on a longer time frame. I've got a lot more in store for you, too... and not just on the downside.
Picking stocks that will go down is not magic. I've been doing this for 25 years. There are also technical and credit analysis tools I've developed. We'll go over these. You'll see right away why they're so powerful and how to use them yourself.
And it's going to serve my clients - and my readers - very well in the coming Super Crash.
Especially if you know how to use this  trading strategy.
Profit on Stocks That Are Going Down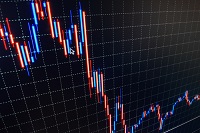 A lot of folks - especially individual investors - don't like to bet on stocks that are going down. That's understandable. It doesn't feel as good to bet against something. Plus, stocks have seen near-uninterrupted gains for six years, thanks to central bank meddling. But I strongly believe it would be prudent for investors to hedge their gains of the last five years; trees don't grow to the sky, especially when their roots are rotting.
Today I want to talk about my favorite way to profit on stocks that are going down.
Now don't get me wrong - not every stock is going to go down. For example, earlier this year, I recommended Microsoft Corp. (Nasdaq: MSFT) in a column on Money Morning. I thought the stock was very cheap for a number of reasons. Well, last week MSFT hit an all-time high. There are other MSFTs out there, and I will continue to find them.
But the same techniques that I use to find undervalued stocks will also help us find overvalued stocks like Valeant. I was gratified to hear from the many readers who profited from that recommendation.
I'm still following this story. VRX held a long press conference Monday accompanied by a 90-page PowerPoint presentation that was designed to clarify its murky relationship with pharmacy company Philidor. It also tried to explain why it sells a significant amount of its products through this type of pharmacy channel, why it paid $100 million for an option to purchase Philidor, and why it didn't previously disclose this material relationship to investors. Suffice it to say that investors and analysts were not convinced by the company's explanations. We also learned that the company has received another subpoena, this time from the U.S. Justice Department regarding its Bausch & Lomb business. This is likely to be in a long line of subpoenas regarding the company's business practices. The stock has settled at around $110 per share for the moment but is tarnished by the company's opacity and lack of disclosure that only compound doubts raised by its predatory business model and high debt levels.
As I continue to show you stocks that are going down, how you trade them is up to you and your financial situation and risk tolerance. There are a few ways to trade from the short side, but one that I like best.
Let's look at this through the lens of VRX.
Stay away from the stock. This was my initial recommendation to you - to check your exposure to VRX in your holdings, including mutual funds and ETFs.
Short the stock. This is the purest play, but it can be very risky if you borrow and sell the actual stock since a stock can theoretically rise an unlimited amount, while your upside is limited to 100%. Certain stocks are hard to borrow (depending on your broker and the specific stock) and shorting requires a margin account. Here's a nice guide to short selling.
My preferred trade: Buy puts. I like to use options to short stocks because doing so is more capital efficient and limits losses to the amount paid for the option. Using options eliminates this risk as well as the problem that arises in shorting hard-to-borrow stocks. Plus, options are leveraged, which magnifies the potential profits, as some readers learned last week with VRX. I expect VRX to decline further in the weeks and months ahead (although not as quickly as it collapsed last week), so some long-dated options would be the way to profit from such a move.
Yes... The Super Crash Is Still Coming
One more thing.
We didn't get a crash in October. Instead, we've gotten a stock market rally of about 7% so far this month that has surprised a lot of people. That's because it doesn't really make sense based on fundamentals. Virtually every economic release has been lousy. Corporate earnings have, with some exceptions among large-cap tech stocks, come in below even low expectations. Oil dropped back below $43 per barrel (WTI) before rallying again. We are truly seeing markets living in a "bad news is good news" world. What that means is that the worse the economic and corporate data is, the more markets expect central banks to step up with more stimulus. And central bankers have not disappointed them.
[mmpazkzone name="in-story" network="9794" site="307044" id="137008" type="4"]
Last week, European Central Bank President Mario Draghi promised that he would continue to do everything possible to support the struggling European economy. And China lowered interest rates again to try to prop up its ailing economy. The Bank of Japan is staying put for the moment, but memories are fresh of last year's Halloween massacre when it unleashed an epic QE program that included not only massive bond purchases, but also purchases of stocks and ETFs in a bout of monetary policy insanity unrivaled in modern history. With the yen stuck at 120, however, further lunacy can't be far behind. The Fed met this week too, of course, but did not raise rates.
The problem with all of these efforts, however, is that they aren't working - economic growth around the world is awful. Would oil be back at $43 per barrel, natural gas under $2.00, and other commodity prices also scraping the bottom of the barrel if economic growth were recovering? I think not. Instead of reviving economic growth, central banks are killing it - and they are too stupid or too stubborn to change course. The real question is, what's the excuse for investors who are following these cock-eyed pied-pipers over the cliff?
Follow us on Twitter @moneymorning.
Editor's Note: Shorting is just one of many ways to capitalize on the "Super Crash" Michael's predicted. His Sure Money readers are getting the updates they need to protect themselves and take profits as stocks dive lower. Click here to receive Sure Money yourself at no charge, and you'll get his "Super Crash Report," too.
About the Author
Prominent money manager. Has built  top-ranked credit and hedge funds, managed billions for institutional and high-net-worth clients. 29-year career.