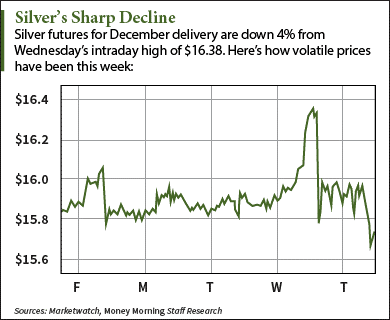 Silver prices today (Thursday) fell 3.5% one day after the Federal Open Market Committee (FOMC) made a hawkish statement on possibly raising interest rates in December.
At 10:05 a.m., silver prices today were trading at $15.73 per 5,000 troy ounces – the amount traded on each futures contract. After the U.S. Federal Reserve announced yesterday it would leave rates unchanged, silver futures immediately plunged about 3.7%. They're now down 0.6% for the week.
Yesterday, the Fed said it would consider hiking interest rates at its next meeting in December. The statement sent the U.S. dollar higher, which dragged down dollar-denominated reserve currencies like silver and gold.
"The Fed hint that it may hike in December has been to the detriment of all commodity prices, as the dollar index surged ahead in the wake of the statement," said Brenda Kelly, head analyst at London Capital Group, to MarketWatch. "For now, the market seems fairly confident that December is literally D-Day; but then the market was pretty confident back in September too."
While traders were confident the Fed wouldn't raise rates during the last two meetings, the December meeting seems much more threatening. According to Money Morning Chief Investment Strategist Keith Fitz-Gerald, the FOMC might counter last quarter's weak earnings by raising rates then lowering them again next year.
"I think the game here is that they're looking at the decline we've seen this earnings season and they're wanting to lower rates in 2016," Fitz-Gerald explained on CNBC's "Markets Now." "They've got to get ahead of that and raise them now, and I think December is a good bet."
Of course, it's uncertain whether Janet Yellen and company will actually go through with a rate hike. Their decision will depend on market conditions leading up to the start of the meeting on Dec. 15. Postponing a rate hike until 2016 is a distinct possibility.
If markets remain fragile and interest rates stay near zero, the dollar will remain in the low 90-point range. That will send silver prices on a long-term rally into 2016.
"Not raising rates is like rocket fuel for precious metals, and silver in particular," Money Morning Resource Specialist Peter Krauth said in September. "If the dollar continues to weaken, it will drive precious metals higher."
Alex McGuire is an associate editor for Money Morning who writes about commodities. Follow him on Twitter for all of the biggest silver updates.
The Other Precious Metal Is About to Rally, Too… After four years of correcting and forming a double bottom around the $1,100 mark, gold seems ready to resume its long-term secular bull market. Just take a look at these charts…