After meandering for most of the year in the $200 to $300 range, the Bitcoin price hit a 2015 high of $333.75 today.
While the price of Bitcoin dropped back to about $321 later, that's still a 36% increase over t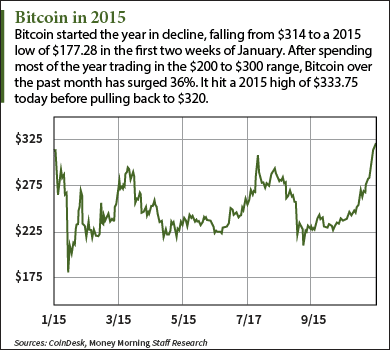 he past month. The Bitcoin price hasn't touched these levels since last December.
It's an encouraging sign to Bitcoin enthusiasts who suffered through the bubble of late 2013.
The bubble took CoinDesk's Bitcoin Price Index from an all-time high of $1,147.25 on Dec. 4, 2013, down to $177.28 on Jan. 14 of this year. In less than 14 months, the Bitcoin price plunged 84.5%.
Now that the Bitcoin price has rallied to a 2015 high, the question turns to what's driving it. And just as importantly, is this rally sustainable?
The "why" question is the more easily answered. This Bitcoin price rally doesn't appear to have much, if anything, to do with the increasing interest from financial institutions in the potential of Bitcoin's underlying technology, the blockchain.
Instead, the Chinese central bank is driving this Bitcoin rally.
On Sept. 1, the People's Bank of China announced fresh capital controls to curb currency outflows that rose after China allowed the yuan to devalue in August. The government also announced a crackdown on "underground" banks people use to move yuan out of the country.
As a digital currency that moves over the Internet, Bitcoin is an ideal way to skirt such capital controls.
Sure enough, volume on BTC China – the largest Bitcoin exchange in the world – tripled fro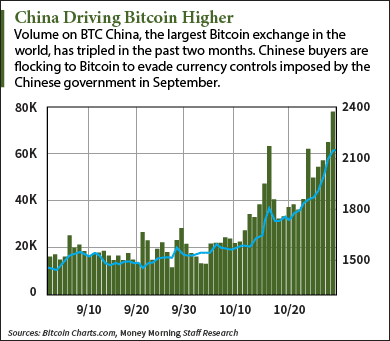 m the end of September to the last week of October. And the surge in demand pushed up the price of Bitcoin.
The concern here is that demand for Bitcoin from China was also a primary driving force in the 2013 bubble. And efforts by the Chinese government to make Bitcoin harder to use played a big role in the bursting of the bubble (the collapse of the Mt. Gox Bitcoin exchange in early 2014 was also a major factor, though).
If the Chinese government decides too much yuan is escaping the country via conversion to Bitcoin, it might take action to stop it (or at least slow it down).
The ensuing drop in demand from China would undermine the Bitcoin price, causing it to slip back into the mid-$200s again.
Eventually – we're talking about at least two to five years – the practical applications of Bitcoin and its blockchain will create the demand needed to push the Bitcoin price higher. But for the time being, Bitcoin watchers need to keep a close eye on China.
Follow me on Twitter @DavidGZeiler.
The Winklevoss Bitcoin Exchange: The Gemini Bitcoin Exchange, a project of the Winklevoss twins, went live earlier this month. Approved by the New York Department of Financial Services, Gemini will be able to do things other Bitcoin exchanges can't. Here's why institutional investors are "really excited" about Gemini…