The HP company split of HP Inc. (NYSE: HPQ) and Hewlett Packard Enterprise (NYSE: HPE), official as of yesterday (Sunday), marks a herculean effort to create more shareholder value from two companies than was possible with one.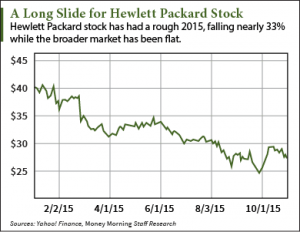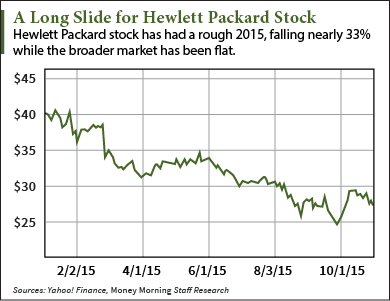 Today (Monday) was their first day of trading as two separate companies. Investors like HP Inc. better so far, pushing HPQ stock up 12.5% in mid-day trading. HP Inc. consists of the consumer businesses of printing and PCs.
Shares of Hewlett Packard Enterprise, the company that will focus on enterprise equipment, software, and services, were flat.
Prior to the HP company split, investors had soured on HPQ stock, which had plunged nearly 33% in 2015.
The HP company split has created two businesses of roughly equal value, with HP Inc. expected to have revenue of $50 billion and HPE expected to have revenue of about $53 billion.
"We're turning around an icon … that lost its way," HPE CEO Meg Whitman told USA Today. "We're trying to set the company up for the next chapter by laying the pipes and remodeling the house."
While the HP company split has the potential to result in two smaller, more nimble companies better able to compete in a tough tech environment, investors have reason to be skeptical.
The HP Company Split Follows a Tortured History
Hewlett Packard has made a lot of big moves over the past 15 years, and several have been disastrous, particularly the $13.9 billion purchase of EDS in 2008 and the $11 billion purchase of Autonomy in 2011.
HP blew $1.2 billion to buy Palm in 2010, and a year later started dismantling the business due to poor sales.
The wisdom of the $25 billion merger with PC maker Compaq in 2001 is still debated today.
Instability at the top hasn't helped, either. From 1999 to the present, HP has had six CEOs, two of them interim. One, Leo Apotheker, lasted just one year, during which rumors broke out that he was thinking of selling off the PC business.
In that context, the HP company split easily could been seen as an act of desperation by a company that has struggled to find a strategy for the 21st century.
But luckily for HP Inc. and Hewlett Packard Enterprise, past performance is no guarantee of future results.
Here's the case for both companies thriving as separate entities…