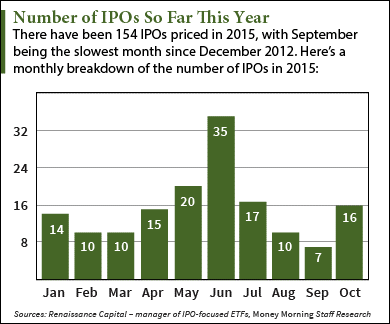 There are four deals kicking off November's upcoming IPO calendar. This week's deals are expected to raise a combined $196 million.
October was a down month for the IPO market. Only 16 companies went public, down 42.9% from October 2014. The average IPO return during the month was 3.4%. That lagged far behind the S&P 500's 8.3% return.
This week's upcoming IPOs will try to buck that trend…
Leading the four upcoming IPOs this week is GenSight Biologics SA (Nasdaq: GNST).
GenSight Biologics is a Paris-based biotech developing therapies for rare eye diseases. The company mainly targets degenerative diseases that cause blindness. Its lead drug candidate is expected to begin pivotal phase 3 trials by the end of the year.
The GenSight IPO hits the market during a rough time for biotech issues. According to Renaissance Capital, a manager of IPO-focused ETFs, eight out of the last nine biotechs priced below their proposed price ranges. The company will raise $65 million by selling 4.7 million shares at a $13 to $15 price range. It's valued at $282 million and will begin trading on Friday, Nov. 6.
Here are the rest of the deals on this week's upcoming IPO calendar…
Three More Companies on This Week's Upcoming IPO Calendar
Kura Oncology Inc. (Nasdaq: KURA) is developing therapies for solid tumors and blood cancers. The firm's lead candidate called tipifarnib is currently in phase 2 trials and targets T-cell lymphoma. Kura is a part of Johnson & Johnson's (NYSE: JNJ) research and development incubator Janssen Labs, which supports high-potential healthcare companies. The Kura IPO is expected to generate $60 million by selling 3.75 million shares for $16 each. The company is valued at $359 million and will hit the market on Thursday, Nov. 5.
Money Morning Members: Keep reading for the rest of this week's upcoming IPO calendar. For those new to Money Morning, sign up to keep reading – it's completely free…