UPDATE: The Etsy earnings report was released after the bell today. The company met top-line expectations but fell short on the bottom line.
The online marketplace reported a loss of $0.06 per share on revenue of $65.7 million. Analysts projected a loss of $0.06 per share on revenue of $66.2 million.
Previous story follows…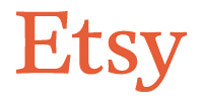 Etsy earnings for Q3 2015 come out after the closing bell today (Tuesday). This is the company's third-ever earnings report, and investors expect the company to post its third straight loss.
Analysts expect Etsy Inc. (Nasdaq: ETSY) to lose $0.06 per share on revenue of $66.2 million. Despite the EPS loss, that estimate marks an improvement over the Q2 numbers. In the second quarter, Etsy lost $0.07 per share on revenue of $61.4 million.
But the worst Etsy earnings report came in Q1 2015. During the first three months of the year, Etsy stock lost $0.84 per share. That loss was 96.4% larger than analysts projected.
ETSY stock's performance has been equally uninspiring. When the Etsy IPO hit the market on April 16, shares soared 88% on their first day. Etsy has fallen 64.4% since and is now considered one of the worst IPOs of 2015.
Shares of the handmade goods marketplace have also been decimated by one of its biggest competitors – Amazon.com Inc. (Nasdaq: AMZN).
On Oct. 8, Amazon launched "Handmade," its own online marketplace for artisan goods. According to Forbes, about 80,000 items from 5,000 sellers in 60 different countries went live on Handmade on the first day alone.
Amazon has clearly developed an "Etsy killer" with Handmade. After all, Amazon's 278 million active accounts dwarf Etsy's 21 million users. That means the Etsy stock price could fall much lower if Handmade's early success continues.
At $10.69 a share, investors are wondering if ETSY's discounted price offers the perfect opportunity to buy in to a rebound after the Etsy earnings report…
How to Play ETSY Stock After Etsy Earnings