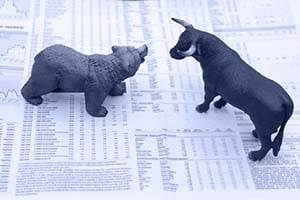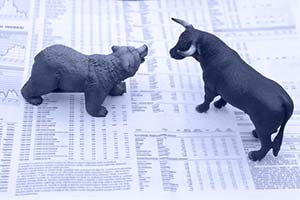 The bull market is about to end, says UBS' Julian Emanuel.
For months we've been warning of a stock market crash.
Money Morning Capital Wave Strategist Shah Gilani – a former CBOE trader, co-creator of the VIX ("fear index"), and hedge fund manager – has seen a bear market just over the horizon since March 2014.
"Without a 10% correction since 2011, stocks are increasingly vulnerable at this juncture. The truth is there's an intense Wall Street battle about to be waged between bulls and bears. And if you don't see this big picture, you could be in for a rude awakening."
Now, a year and a half after Gilani's warning, UBS Group AG (NYSE: UBS ) strategist Julian Emanuel is cautioning his clients about the markets and how they'll soon reach the end of this six-and-a-half-year bull run…
"Signs are accumulating that, after six-and-a-half years and price gains of more than 200%, the Bull Market has entered into the 'Late Innings,'" Emanuel wrote in a note released to investors on Friday. "M&A activity – as revenue growth stays challenged – has been feverish, and the announcement of talks between Pfizer Inc. (NYSE: PFE) and Allergan Plc. (NYSE: AGN) is reminiscent of deals such as AOL/Time Warner in 2000 and RBS/ABN-AMRO in 2007, blockbusters in market leading sectors which were followed by major market tops."
Emanuel also believes that such a "market top" has not quite been reached. This means only one thing…
It's time to protect yourself – and make money. After all, as Gilani preaches, "you have to be in it to win it."
While teaching investors how to play defense, Gilani has also been carefully directing them on how to make the most of pre-market-sell-off M&A activity.
"After more than 33 years trading billions of dollars' worth of all kinds of securities, I can almost always see a directional change as it's happening when channels, trend lines, and support and resistance levels are breached," Gilani said on Oct. 8.
Here's how Gilani knows a stock market crash is indeed on the horizon – and how you can profit from his well-timed warnings…
How to Prepare for the U.S. Stock Market Crash in 2015
Find us on Twitter @moneymorning.
Yuan in on Some Important Currency Information? It's almost certain a yuan reserve currency will become reality 11 months from now, triggering a foreign currency shift of as much as $2 trillion – an existential threat to the U.S. dollar's status as the world's primary reserve currency. Here's how the markets are about to be reshaped…
Related Articles: