Editor's Note: Facebook stock jumped 3.75% in after-hours trading today (Wednesday) following strong earnings numbers. Facebook reported earnings per share (EPS) of $0.57 on $4.5 billion in revenue, beating Wall Street's expectations of $0.52 and $4.37 billion in revenue. Monthly active users (MAUs) rose 14% from the previous year to 1.55 billion. Daily active users far exceeded expectations of 992 million, reaching 1.01 billion.
Previous story follows…
Facebook earnings for Q3 2015 will be announced after the bell today (Wednesday).
In 2015, Facebook stock has returned 24% more than the Nasdaq, and the FB stock price has climbed 85% since Facebook's initial public offering on May 25, 2012.
The consensus from analysts polled by Thomson Reuters is that Facebook will post quarterly revenue of $4.36 billion and earnings per share (EPS) of $0.52, minus items.
In Q2, Facebook Inc. (Nasdaq: FB) beat analysts' revenue projections of $3.99 billion by reporting $4.04 billion in revenue. Facebook also beat earnings per share (EPS) projections of $0.47 by reporting EPS of $0.50.
The social media giant reported strong growth in monthly active users (MAUs) in Q2 with 1.49 billion, a 13% increase year over year. But many FB stock owners are concerned that the Facebook stock price simply can't keep growing with the social media giant already saturating the market with its billions of MAUs.
Here's what FB investors should pay attention to when Facebook earnings for Q3 2015 are released today…
What to Look for in Facebook Earnings for Q3 2015 Today
Facebook will be judged on its MAUs, which are a big deal to investors. The Twitter Inc. (NYSE: TWTR) stock price took a hit because of the stagnant MAU growth reported in Twitter's 2015 Q3 earnings.
Investors will also pay attention to daily active users (DAUs) and mobile DAUs. Facebook reported 844 million mobile DAUs in Q2, and Motley Fool predicts Facebook will report 865 million in Q3.
One area to also keep an eye on is ad revenue generated from Facebook-owned Instagram. Research service eMarketer projects that Instagram will bring in $595 million in mobile ad revenue for 2015. Even more impressively, eMarketer predicts that Instagram's mobile ad revenue will reach $2.81 billion by 2017.
You see, the power of Instagram's monetization keeps growing…
Investment bank Piper Jaffray recently released a study that found Instagram was considered the most important social network to teens. Facebook and Instagram combined for 47% of the most important social networks to this age group, which was more than double Twitter's perceived importance.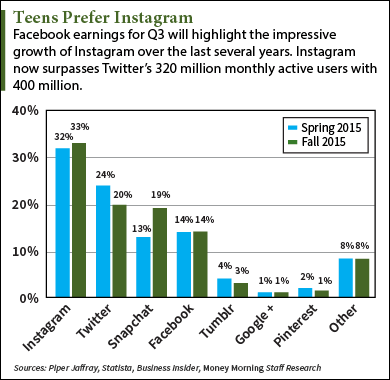 Facebook may also discuss outlooks for a few programs they have in the pipeline…