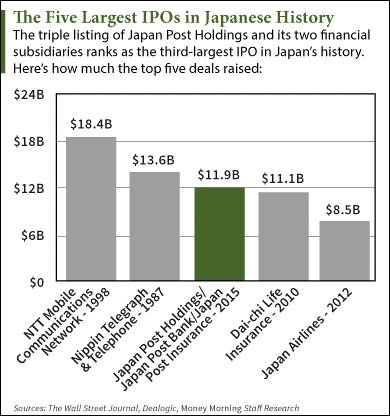 The Japan Post IPO raised 1.44 trillion yen ($12 billion) yesterday (Tuesday). That makes it the world's biggest IPO since Alibaba in September 2014 and Japan's biggest IPO in 20 years.
The deal is a three-way listing of the government-owned Japan Post Group. The three separate firms are postal giant Japan Post Holdings Co. Ltd. (TYO: 6178) and financial subsidiaries Japan Post Bank Co. Ltd. (TYO: 7182) and Japan Post Insurance Co. Ltd. (TYO: 7181).
All three companies saw massive first-day gains today. Shares of Japan Post Holdings surged 26%, while the bank and insurance subsidiaries climbed 15% and 56%, respectively.
The Japan Post IPO marked the end of a decade-long effort to privatize the country's postal service. The deal falls in line with Prime Minister Shinzo Abe's efforts to encourage private investment in order to boost economic growth.
The government took measures to ensure the three companies attracted individual investors. For example, Japan Post Bank offers a 3.5% dividend yield. That's more than double the average 1.6% yield of Tokyo's benchmark Nikkei 225 index.
"The IPO is a big feather in the hat for Abe and Abenomics," said Gavin Parry, managing director at Parry International Trading, on CNBC's "The Rundown." "It is trying to get increased share ownership in the domestic society, getting money out of the mattresses and putting it to work."
Abenomics is a mix of policy initiatives aimed at bringing fiscal and monetary stimulus to Japan's economy. Investors are worried about a possible Japanese recession after the country's industrial output reportedly declined for two straight months in July and August.
One of the ultimate goals of Abenomics is to increase consumer spending. With the initial success of the three newly issued companies, the national government hopes the Japan Post IPO will help accomplish that long-term goal. The holding and bank companies issued more than 400 million shares, while the insurance firm issued 66 million.
Alex McGuire is an associate editor for Money Morning who writes about IPOs. Follow him on Twitter (@AlexMcGuire92) for all of the biggest IPO news.
Bonus IPO Content: Last month, Square Inc. filed to launch a $275 million initial public offering. The financial services startup filed shortly after CEO Jack Dorsey was also named permanent CEO of Twitter. Here's why this dual leadership could be a risk for early Square investors…