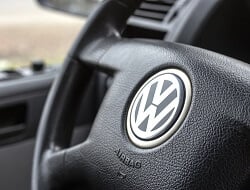 The Volkswagen stock price sank 9% to $101.05 early today (Wednesday) amid new reports the German automaker's emission scandal has widened.
"Dieselgate" has now spread to include Volkswagen AG's (OTCMKTS ADR: VLKAY) luxury Porsche and Audi brands. Another 800,000 cars are said to be affected.
The news came late Monday after the U.S. Environmental Protection Agency (EPA) announced it is now also looking at 3.0-liter V6 diesel engines.
The Volkswagen stock price has now fallen more than 52% from the highs it hit in March.
In late September, the EPA and California state regulators accused Volkswagen of installing a "defeat device" on its vehicles to dodge emissions requirements. According to regulators, the German automaker's diesel cars are spewing nitrogen oxide at 40 times the acceptable level. Nitrogen oxide can aggravate respiratory conditions such as asthma, bronchitis, and lung disorders.
Volkswagen admitted to the deceptions just one week after the accusations.
The number of vehicles in the United States involved was estimated at 482,000. Monday, the EPA said another 10,000 cars are likely affected.
The global tally was initially pegged at more than 11 million vehicles. As many as 10 million of the affected vehicles are likely in Europe, where VW is the leading auto manufacturer. Diesel cars are much more common in Europe. That total is now approaching 12 million.
Volkswagen has already set aside 6.5 billion euros, roughly $7.3 billion, to cover the costs. That's equivalent to about a half-year of profits. Tuesday, VW reported it has set aside an additional $2.2 billion.
But that may not be nearly enough...
The EPA has the authority to fine Volkswagen up to $37,500 per vehicle. That means Volkswagen could be looking at a massive $18 billion fine in the United States alone. Volkswagen could also face accusations of false marketing and consumer lawsuits of its promotion of the vehicles under the "Clean Diesel" label.
Before today's news, the Volkswagen stock price had already lost about a third of its value since "Dieselgate" surfaced on Sept. 18. VW stock is down a punishing 40% year to date.
And the fall may be far from over for the Volkswagen stock price...