On Monday, Oct. 27, the world's biggest name in tech came under selling pressure, falling 3.2%.
The following day, the stock of this global leader dropped another 0.6%. All told, the stock lost roughly $33 billion in market value in just two trading sessions.
Predictably, Wall Street went into panic mode. Analysts were either certain that Apple Inc. (Nasdaq: AAPL) would disappoint on earnings or terrified that iPhone sales had weakened, particularly in China.
They turned out to be wrong on both counts.
After the market closed last Tuesday, Apple released a stellar fourth-quarter earnings statement. The news was better than even I expected – and I've been an Apple bull forever.
Apple did more than just turn in a great performance; it turned in record fourth-quarter results.
And the iPhone's off-the-charts sales in China factored heavily in the results.
This is great news for us, because Apple still has a lot of market-beating upside ahead.
Here's why…
Busting Some Myths About Apple (Nasdaq: AAPL)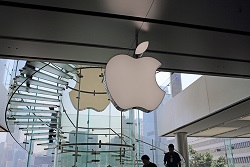 These days, Wall Street seems to lurch from panic to panic. By that I mean we see investors overreacting to the slightest hint of trouble.
Second, as we discussed in July, the Street seems to have Apple on "double secret probation." In other words, analysts hold some wildly inflated expectations for the Silicon Valley legend.
And once you add into the mix all those analysts' concerns about China's slowing economic growth, it's no wonder they're feeling perpetually on edge about Apple.
All of which explains why an odd misperception has gripped the financial media to the effect that Apple stock is a laggard this year.
Let me be clear. Nothing could be further from the truth.
Following those great fourth-quarter earnings, the stock is up 10.2% so far this year. That compares with a 1.6% return for the S&P 500 Index over the same period.
You read that right…
The stock that leads the entire world in market cap, with $665 billion, is beating the broad market by 530%. Actually, by even more, when you factor in money earned from the stock's special dividends, which totaled $3 billion for the period.
Of course, the iPhone remains the biggest gun in Apple's tech arsenal.
In its fiscal fourth quarter ended Sept. 26, Apple sold 48 million of the devices. That means sales of the iconic device grew 22% from the year-ago quarter.
And I believe Wall Street embarrassed itself by overstating its fear that iPhone sales in China were heading lower.
Consider…
Sales Growth Everywhere
Sales to Greater China, which includes Hong Kong and Taiwan, rose 99% to $12.5 billion. This despite the fact that the iPhone sells for two to three times the price of most locally made smartphones.
But soaring iPhone sales aren't the only reason Apple is shining.
Apple also makes one of the hottest PCs in the world today.
Analysts at IDG say the broader PC market shrank 11% in the quarter. But despite that general downturn, Mac sales rose 3%. That clearly makes Mac the product to beat in this sector.
The company doesn't disclose specific sales figures for its new Apple Watch. Rather, Apple includes Watch sales (along with the iPod, Apple TV, and Beats accessories) in an "other products" category.
But sales of all products making up that "other" category swelled 61%, reaching $3.05 billion.
Add it all up and you have stellar sales and stellar earnings, a one-two punch that beat forecasts in both categories and caught Wall Street flat-footed.
Join the conversation. Click here to jump to comments…
About the Author
Michael A. Robinson is one of the top financial analysts working today. His book "Overdrawn: The Bailout of American Savings" was a prescient look at the anatomy of the nation's S&L crisis, long before the word "bailout" became part of our daily lexicon. He's a Pulitzer Prize-nominated writer and reporter, lauded by the Columbia Journalism Review for his aggressive style. His 30-year track record as a leading tech analyst has garnered him rave reviews, too. Today he is the editor of the monthly tech investing newsletter Nova-X Report as well as Radical Technology Profits, where he covers truly radical technologies – ones that have the power to sweep across the globe and change the very fabric of our lives – and profit opportunities they give rise to. He also explores "what's next" in the tech investing world at Strategic Tech Investor.