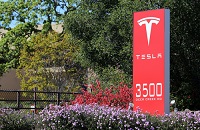 Tesla Motors Inc. (Nasdaq: TSLA) stock soared 11% in early trading this morning, the day after the company released a bullish outlook in its Q3 earnings report.
In the Tesla earnings report, the company said it expects to deliver between 17,000 and 19,000 vehicles in Q4. That would be up from the record deliveries of 11,603 it just posted in Q3.
"We don't see any fundamental obstacle to achieving the production rate of several hundred (vehicles) per week sometime next month," CEO Elon Musk said during the earnings call.
That news sent TSLA stock to an intraday high of $232.74. Tesla shares are now up 3.8% in 2015.
The bullish delivery outlook also overshadowed disappointing earnings figures. Earnings per share (EPS) came in at a loss of $0.58. Analysts had been expecting a loss of $0.50 per share.  Revenue came in at $1.24 billion, which was slightly below estimates of $1.26 billion.
But investors were clearly more concerned with the delivery outlook. Tesla maintained its full-year 2015 delivery total at 50,000 vehicles.
Musk also said that orders of the new Model X SUV have increased 50% this quarter after the first orders were delivered in late September.
Another huge factor for investors was the announcement that production of the Tesla Gigafactory is ahead of schedule. The massive battery factory is expected to begin production in 2017, and the company said it has accelerated investments in the factory.
Finally, Musk said the company has seen "growing demand" for its home battery systems. While he didn't provide many specifics, he said that Tesla's home energy storage technology is ahead of the competition.
With TSLA stock soaring today, investors are wondering if now's the time to buy in on Tesla stock. According to Money Morning experts, TSLA stock is a great investment for a certain type of investor…
Follow us on Twitter @moneymorning. Like us on Facebook: Money Morning.