Kraft Heinz Food Co. (NYSE: HNZ) announced Wednesday it will close seven plants in the United States and Canada over the next two years. The Kraft Heinz plant closures will eliminate 2,600 jobs and add to 2015's growing layoff tally.
The Kraft Heinz plant closures will trim the newly merged food company's North American factory workforce by 14%. The company also announced in August that some 2,500 non-factory jobs would be shed. The job force cuts are aimed at reducing costs and making the food giant more efficient and nimble.
The Kraft Heinz plant closures add to the October layoff total of 50,504.
October's tally brings the year-to-date total to 543,935. That's 31% more than the 414,591 cuts announced by this point in 2014. In fact, it's 13% higher than 2014's full-year count of 483,171, according to outplacement consultancy Challenger, Gray & Christmas Inc.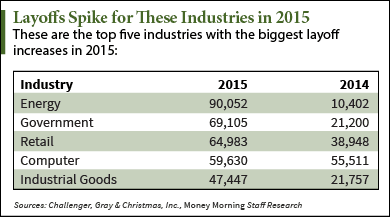 The oil price slump is the key culprit in this year's mounting layoff count.
About one in five layoffs announced this year are attributed to low oil prices. In October, oil prices were blamed for 13,671 job cuts. That's 27% of all cuts announced last month. It's also the highest oil-related job cut total since April, when 20,675 job cuts were blamed on oil.
Overall, oil prices are responsible for 101,383 job cuts so far in 2015. A number of companies, including Chevron Corp. (NYSE: CVX), Halliburton Co. (NYSE: HAL), Baker Hughes Inc. (NYSE: BHI), and Schlumberger Ltd. (NYSE: SLB), have experienced multiple layoff events this year.
But the spike in layoffs hasn't just been limited to the oil industry…
Large-scale military cutbacks in early 2015 thrust the government sector to the second spot in the year-to-date job cut rankings. The 69,105 government cuts announced through October are 226% higher than the 21,200 announced last year.
Layoffs in the retail sector are up 67% to 64,983 in 2015.
And things will likely get worse…
"Now, we are heading into what has historically been a period of heavy job cutting, even in the strongest economy," John A. Challenger, chief executive officer of Challenger, Gray & Christmas, said in a statement. "The fourth quarter is when many companies make adjustments to operations and payrolls in order to hit year-end earnings goals."
Here are 12 more notable layoffs announced last month…