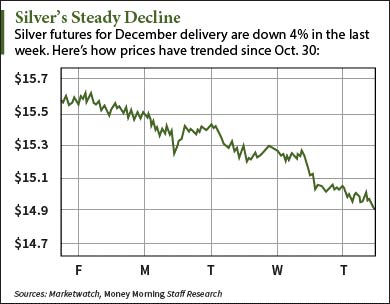 Silver prices today (Thursday) tumbled 0.8% as dollar-denominated commodities continue their second day of losses after U.S. Federal Reserve Chairwoman Janet Yellen's hawkish interest rate comment.
At 10:10 a.m., silver prices today traded at $14.94 per 5,000 troy ounces – the amount listed on each futures contract. Silver prices surged 7.2% in October. However, futures have already erased more than half of those gains by falling 4% so far this month.
The decline in silver prices today comes in the wake of Yellen's speech to the U.S. House Financial Services Committee. During yesterday's speech, Yellen teased the possibility of an interest rate hike during the next FOMC meeting starting on Dec. 15. She cited a well-performing economy and growing domestic spending as justification for December being a "live possibility."
The statement sent the U.S. dollar up 1%, which dragged down most dollar-denominated commodities. Oil and gold prices are also down 4.2% and 0.8%, respectively, since yesterday.
A December rate hike seems much more probable than previously thought. Although Yellen cited a strong economy as a reason for a rate hike, the Fed is worried about the weak earnings season we're currently in. The FOMC could counter declining earnings by raising rates then lowering them again in 2016.
"I think the game here is that they're looking at the decline we've seen this earnings season and they're wanting to lower rates in 2016," Money Morning Chief Investment Strategist Keith Fitz-Gerald said on CNBC's "Markets Now." "They've got to get ahead of that and raise them now, and I think December is a good bet."
Of course, there's no telling whether the Fed will actually raise interest rates in December. But that doesn't mean you can't safely invest in silver.
Here's how you can profit from silver prices – no matter what the FOMC decides next month…