There is an old adage that traders are told to live by that goes, "Plan your trade and trade your plan."
There should be a follow-up to that one that says, "Stick to your plan no matter what."
You would think that last adage is implied in the first one, but beginning traders always seem to get something in their head that makes them change their original trading plan. Even more experienced traders veer from time to time.
I can speak from my early days of trading experience when I say changing your plan mid-trade ALWAYS ends up reinforcing one lesson: that you should have stuck with your original trade plan all along.
Every master trader has learned, probably the hard way, to build a simple, effective trade plan and stick to it no matter what. It's pure gold.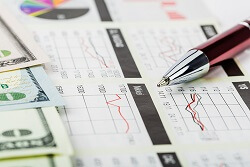 Today, I'm going to show you how to do just that using a case study straight from Money Calendar...
When setting up a trade, there are some things traders should have in mind that need to be done before they invest their first dollar. First, you must determine what kind of trade you want to make, which will most likely be decided by what kind of trader you are.
Since the majority of my trades are directional, I will focus on how to build a directional trade in the following example. But keep in mind that the underlying principals will work no matter what kind of trade you want to make.
For our purposes here, we want our targeted stock to make a move up or down, so it's important that we first make an assessment of the upcoming, short-term market direction.
You can use whatever tools you have at your disposal to make this determination, including any number of indicators (as we've talked about recently, the simple moving average is a great way to assess direction). I use Money Calendar, which gives me a calculation of how many of my top 250 stocks are showing the 90% probability of making a higher or lower price move.
Next, you'll assess how far you expect the stock to go and by what time frame. This will help you audit or manage your trade effectively. For our example here, let's assume your research indicates a three-point move higher in the underlying stock within the next few months.
Naturally, you'll want to buy call options with an expiration date a couple of months out.
But before you do, make sure you do one thing...
Determine Your Risk Ahead of Time
Before you buy your call options on the underlying stock that you expect will see a three-point move in the next few months, you have to determine your risk.
Some traders calculate their max position size using a percentage of their trading account. Typically, traders do not risk more than 2% of their trading capital on any one trade. Many traders risk far less. For Money Calendar trades, the rule is that we never risk more than $500 per trade. Whatever method or number you choose, just be consistent so that you can easily determine your position size for each trade.
Join the conversation. Click here to jump to comments…
About the Author
Tom Gentile, options trading specialist for Money Map Press, is widely known as America's No. 1 Pattern Trader thanks to his nearly 30 years of experience spotting lucrative patterns in options trading. Tom has taught over 300,000 traders his option trading secrets in a variety of settings, including seminars and workshops. He's also a bestselling author of eight books and training courses.