The Alibaba stock price was up 1.1% in early trading today (Friday) after Alibaba Group Holding Ltd. (NYSE: BABA) announced it will buy Chinese video site Youku Tudou for $3.6 billion.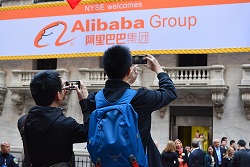 Alibaba originally purchased over 18% of Youku Tudou Inc. (NYSE ADR: YOKU) in 2014 for $30.50 per share. Alibaba will now gain control of the remaining 82% of Youku Tudou for $27.60 per share.
Youku is known as the "Chinese YouTube" and boasts 580 million users, according to digital marketing company DMR.
Alibaba has recently ramped up its efforts to become a go-to source for video and other media content. It rolled out its paid video subscription service TBO in a beta launch in September.
And the move is more than just a play to dominate the video market in China...
The acquisition allows Alibaba additional channels to promote its online retail site, online storefronts, and other services. Youku Tudo houses well-known Chinese video bloggers who can promote Alibaba's goods and services to their built-in audiences.
The Youku acquisition is just a small part of Chairman Jack Ma's plan for future success. As Money Morning Executive Editor Bill Patalon puts it, "It's a 'transformational' type of company, meaning its leaders are 'planting seeds' right now that will have big future payoffs."
But today's acquisition news isn't the only reason we're bullish on the Alibaba stock price. Alibaba's recent earnings were also very encouraging.
Alibaba reported year-over-year revenue growth of 32% on Oct. 27 in its quarterly earnings report. Gross merchandise volume was up 28% from the previous year.
And that's part of the reason Patalon refers to BABA as a "legacy" stock...