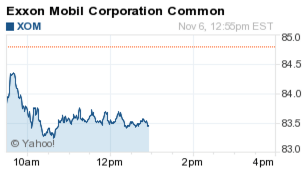 Exxon Mobil Corp. (NYSE: XOM) is being probed by the New York attorney general for allegedly shielding the risks of climate change from its investors. The Exxon Mobil stock price is down 1.53% today to $83.49.
Over the past decade, Exxon has published research consistent with mainstream beliefs about climate change. Yet, investigators believe there might be inconsistency between Exxon's research and its statements to investors.
On Nov. 2, Democratic presidential hopeful Hillary Clinton also called out Exxon for allegedly misleading the public about climate change by withholding data, the Washington Free Beacon reported.
So far, Exxon hasn't issued a formal response about the federal investigation.
Now investors need to know if the Exxon stock price can shake off this latest hit and continue to rebound into 2016 …
Exxon Mobil Stock Price History Shows Resilience
The Exxon Mobil stock price has slipped 13% over the past year as oil prices remain around $50 a barrel. XOM fell as low as $68 in August 2015, down from over $100 a share in June 2014. But XOM has climbed about 22% since then.
In the past, Exxon has also weathered media scrutiny about continuing to fund groups that are skeptical of climate change, such as the Heritage Foundation and the National Center for Policy Analysis.
All historical evidence points to Exxon stock being able to shake off the investigation.
Stay tuned to Money Morning to see how Exxon's stock will be affected as the climate change investigation unfolds and oil prices continue to hover around $50.
Cameron Saucier is an Associate Editor for Money Morning. You can follow Money Morning on Twitter and Facebook.