Our new gold price forecast today uses technical analysis to shed light on where gold's short- and mid-term price path is going.
Gold has had a bit of roller coaster action over the past few months. In October, the gold price did an almost complete round trip: It started the month around $1,107, blasted up to $1,185 by mid-month, and finally gave it all back by month's end.
If we can point the finger at one particular driver, it's almost unarguably the U.S. dollar.
As we approached month's end, when the U.S. Federal Reserve (yet again) signaled a December rate hike, the dollar got a boost and in turn weighed on the price of gold.
Then came the October jobs report Friday, Nov. 6 (today). And it hit gold like a ton of bricks…
To get a better gold price forecast for the end of 2015, let's dig a little deeper…
Gold Price vs U.S. Dollar Chart
Here's a chart that shows how the gold price and the U.S. dollar have behaved over the last six months: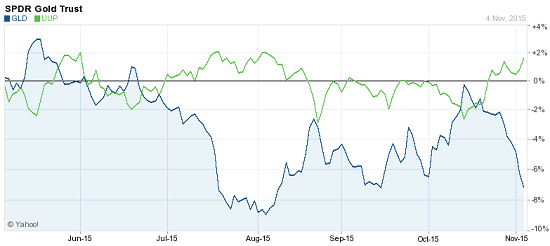 This shows clearly the inverse relationship between these two assets, at least on a short-term basis. While the percentage changes are obviously not the same, the directional moves are undeniably linked.
We can see that the last week of October, the U.S. dollar shot up on Fed Chairwoman Janet Yellen's rate hike comments. Meanwhile, gold prices cratered from $1,185 to hit $1,085 by Nov. 6. Their reactions are near perfect mirror images of each other.
So what does this mean for our gold price forecast?
Gold Price Forecast: Look to the U.S. Dollar
The dollar is the best near-term indicator today.
What's especially worthy to note is where the U.S. Dollar Index sits right now. As it turns out, it's right at a crucial point.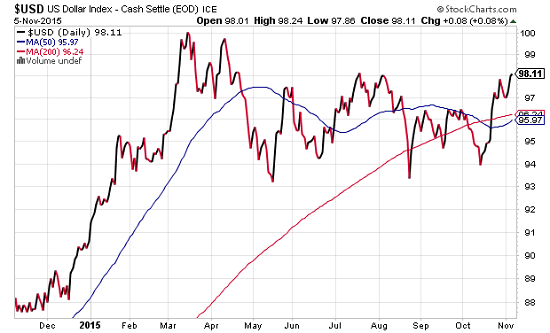 A move of the dollar index back down from 98 (a level that acted twice as resistance in July and August) would help the gold price head higher.
But instead, it pushed above 98 to 99.3 early Friday, Nov. 6 (not shown in above chart). That pummeled gold and gold stocks considerably.  So we're currently at a key level in the dollar index, and it's worth keeping a close eye on exactly what it does next.
If it pushes above 100, it may return to a new bull run. That would most likely push gold lower still. If instead it reverses, that would be likely to support gold over the next weeks and months.
How These Technicals Shape the Gold Price Forecast
Join the conversation. Click here to jump to comments…
About the Author
Peter Krauth is the Resource Specialist for Money Map Press and has contributed some of the most popular and highly regarded investing articles on Money Morning. Peter is headquartered in resource-rich Canada, but he travels around the world to dig up the very best profit opportunity, whether it's in gold, silver, oil, coal, or even potash.