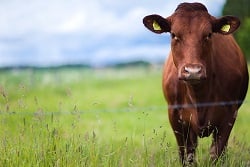 The year was 1978.
First lady of Arkansas Hillary Rodham Clinton said, in later interviews, she'd wanted to pad her husband's modest salary with some investments.
She did just that – with highly speculative commodities trading. In fact, Clinton turned $1,000 into $100,000.
But her actions would spark a scandal, known as the "Hillary Clinton cattle futures controversy."
Here's why…
The History Behind the Hillary Clinton Cattle Futures Controversy
Commodities trading is risky. Analysts estimate more than three-quarters of commodities investors lose money.
But skilled traders – or ones with special knowledge – can cash in.
Hillary Clinton had no commodities trading experience when she entered the market. Nor did she have any specialized knowledge of the cattle business.
Yet she cashed in, miraculously turning $1,000 into $99,537 in 11 months, by investing in live cattle futures – contracts linked to the anticipated future value of 40,000 pounds of slaughter-ready beef cattle.
That's why eyebrows raised when computerized records of Clinton's trades, which the White House obtained from the Chicago Mercantile Exchange (CME), showed how she was able to turn her initial investment of $1,000 into $6,300 overnight (and nearly $100,000 over the next 10 months).
Clinton said her trades were guided by her own research in The Wall Street Journal, and by James Blair – her friend and a top in-house lawyer for Tyson Foods Inc. (NYSE: TSN), one of Arkansas' most lucrative companies.
But analysts nationwide gauged the odds of her success and were left with serious doubts that Clinton's cattle futures trades had been totally legal…