One key piece of Apple stock news from last month's earnings almost completely slipped under the radar of the financial news media.
As usual, most of the reports focused on Apple Inc.'s (Nasdaq: AAPL) iPhone sales, and particularly its iPhone sales in China.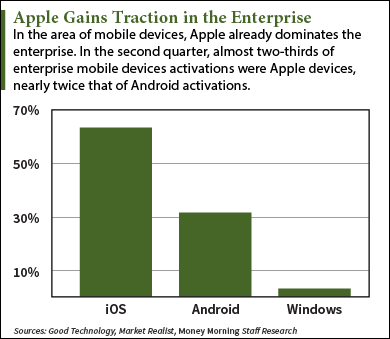 Granted, the iPhone dominates Apple's business these days, and China is no doubt a major contributor to the company's recent success.
But one of the subplots in every Apple earnings story is where the Cupertino, Calif.-based company will find future growth. And that leads to worries about the Apple stock price.
The media and Wall Street analysts just need to open their eyes. For example, last week we explained why Apple's China growth story still has years to play out.
And it's important to keep in mind that Apple is always working on new projects that could give it access to new markets – and new sources of revenue.
But the Apple stock news that almost everybody missed is a trend already under way – AAPL's growing beachhead in the enterprise.
Why the Enterprise Is the Apple Stock News That Matters
In the Q4 Apple earnings conference call, CEO Tim Cook said that the company's enterprise business had raked in $25 billion for the fiscal year 2015. But more importantly, it had grown 40% year over year.
"The enterprise business is not to be underestimated," Cook said, calling it a "major growth vector for the future."
Some have dismissed Apple's enterprise business as too small to matter – it made up just under 11% of Apple's FY 2015 revenue. But remember, this is Apple.
That $25 billion "slice" is higher than the total annual revenue of such well-known companies as Northrop Grumman Corp. (NYSE: NOC), Union Pacific Corp. (NYSE: UNP), and GlaxoSmithKline Plc. (NYSE: GSK).
But Apple clearly intends to become a major player in the enterprise, which will allow it to snag a much bigger portion of this $3.8 trillion market.
Here's how Apple plans to do it – and what that will mean for AAPL stock…